Inroduction to the solar system
Nuclear Hybrid Rocket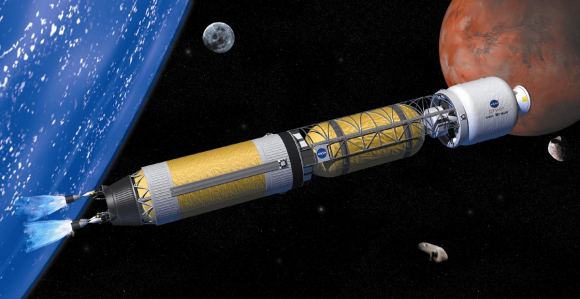 Artist's concept of a bimodal nuclear rocket making the journey to the Moon, Mars,
 and other destinations in the Solar System.
 Credit: NASA

Why the Solar System May Be Full of Life with NASA Chief Scientist Dr. James Green

Is life on Europa?
Did Mars have life? Does Mars currently have life on it?

NASA Chief Scientist Dr. Jim Green joins John Michael Godier to discuss NASA's plans for Mars 2020,
 the possibility of past and current life on Mars. As well as the fact that the solar system 
 may be full of life as much of the moon's and Kuiper belt objects have large amounts of water on them.
 Does Europa have complex life? It has an ocean of water underneath it's surface more than the combined
 amount of water on Earth. The Europa Clipper mission will do its best to answer that.
 Also, how is NASA now searching for potential technosignatures?

Dr. Green's podcast Gravity Assist: 


 Want to support the channel? Patreon:

Follow us at other places!
Website: 
Twitter: @jmgeventhorizon
Instagram: @jmgeventhorizon

Music featured on Event Horizon
Stellardrome badcamp
Miquel Johnson Bandcamp
Leerosevere Bandcamp
Aeriumambient Bandcamp

FOOTAGE:
NASA
ESA/Hubble
ESO - M.Kornmesser
ESO - L.Calcada
ESO - Jose Francisco Salgado (josefrancisco.org)
NAOJ
University of Warwick
Goddard Visualization Studio
Langley Research Center
Pixabay


NASA Scientist Simulates Kaleidoscope of Sunsets on Other Worlds

Geronimo Villanueva, a NASA planetary scientist, created these sunset simulations while building a computer modeling 
tool for a possible future mission to Uranus, an icy-cold planet in the outer solar system. To check the accuracy 
of his tool, Villanueva simulated known sky colors of various planets and moons, some of which are shown in this video.
The simulations show these worlds turning away from the light of the Sun, which is what's happening when we see a sunset.
 As these worlds rotate, photons get scattered in different directions depending on the energy of the photons
 and the types of molecules in the atmospheres. The result is a lovely palette of colors that
 would be visible to those standing on these worlds.

For more information on the sunset simulations, go here:

Video credit: NASA's Goddard Space Flight Center
James Tralie (ADNET):
Lead Producer
Lead Editor

Geronimo Villanueva (Catholic University of America):
Lead Scientist
Lead Visualizer

Lonnie Shekhtman (ADNET):
Lead Writer

Aaron E. Lepsch (ADNET):
Technical Support

Music credits: "Immense and Beautiful" by Victoria Beits from Universal Production Music

This video is public domain and along with other supporting visualizations can be downloaded from NASA Goddard's Scientific Visualization Studio at: https://svs.gsfc.nasa.gov/13645

If you liked this video, subscribe to the NASA Goddard YouTube channel: subscribe to the NASA Goddard YouTube channel:

 
Follow NASA's Goddard Space Flight Center
·  Instagram 
 ·  Twitter- NASA GODDARD
 ·  Twitter-NASA GODDARD PICS
 ·  Facebook:
 ·  Flickr


---
Current status of the deep space network
A Brilliant Animation Showing How Fast and at What Angle the
Largest Planets in Our Solar System Rotate
by Lori Dorn at 1:25 PM on December 31, 2018



NASA's Solar System Page
---
---
Solar System Guide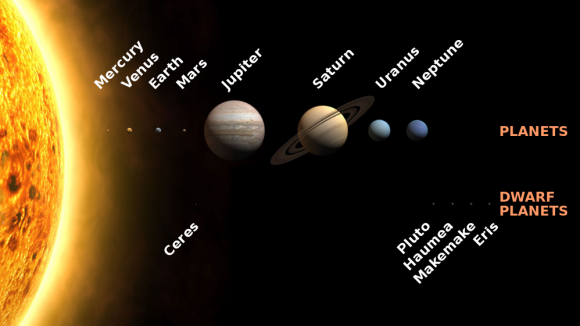 The Solar System. Image Credit: NASA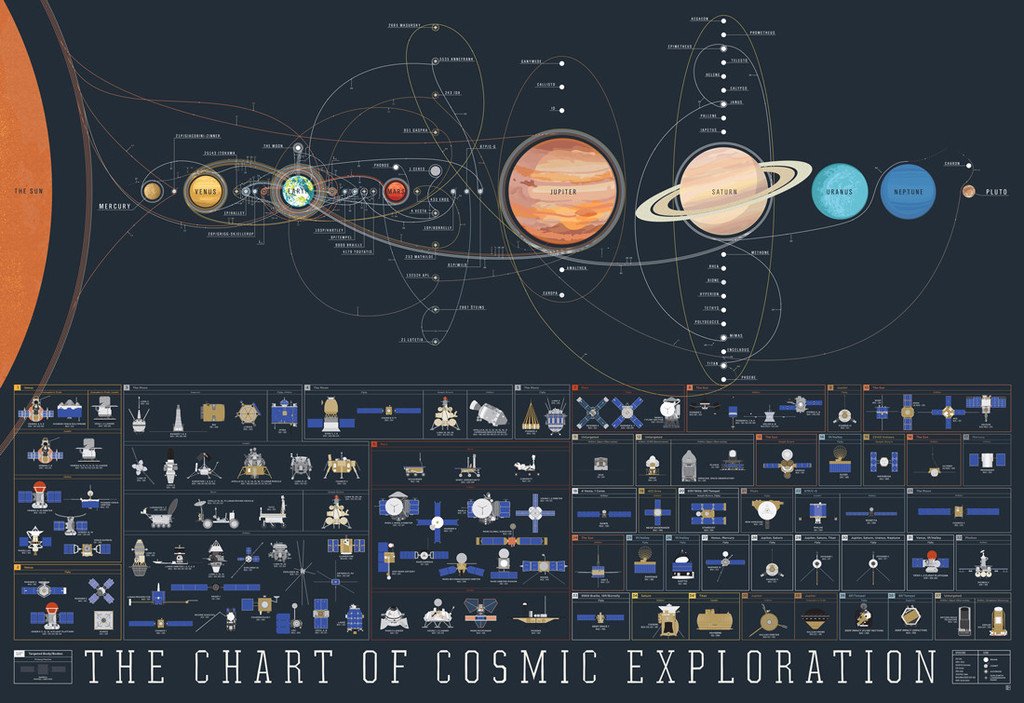 Get ready for an intergalactic (ok, maybe intragalactic) adventure! Pop Chart Lab
 has distilled more than half a century of space travel into a beautiful print. 
 The Chart of Cosmic Exploration features hand-illustrated renderings of every orbiter,
 lander, rover, flyby, and impactor to ever successfully slip the surly bonds of Earth's orbit. 
 Plus all of our pretty-cool planets in our pretty-great Solar System. Details -
 Dimensions: 36 x 24 inches (60.96 x 91.44 cm) - Each poster comes packaged 
 in a Pop Chart Lab Test Tube - 100 lb. archival stock certified by The Forest Stewardship Council -
 Poster is pressed in Long Island City with vegetable-based inks About Pop Chart Lab In 2010, 
 a book editor and a graphic designer joined forces with one modest goal: to render all
 of human experience in chart form. They went on to amass no small renown (that is, a ton of renown)
 for their infographical treatments of the varieties of beer, the full array of culinary tools,
 a taxonomy of hip-hop, and dozens more mappings of cultural touchstones. Now, with a small team
 of researchers, designers, and soldiers, Pop Chart Lab continues to assemble, sift, cull,
 and arrange massive amounts of cultural data into meaningful works of art and information.

The Major Planets of Our Solar System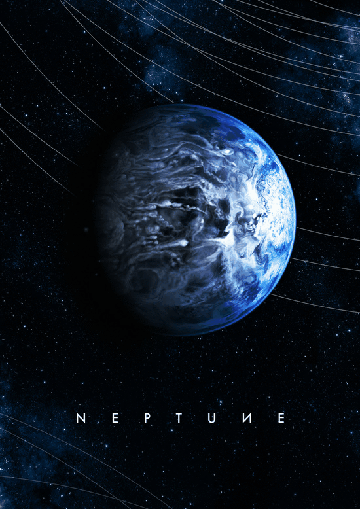 Real Images from the Solar System!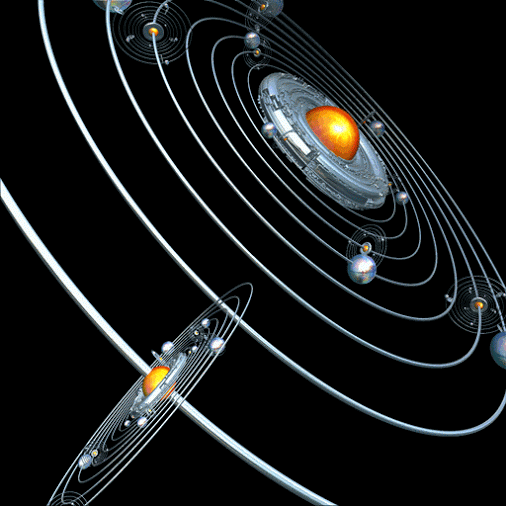 The Solar System to scale
The Solar System In HD
Cool action Solar System Action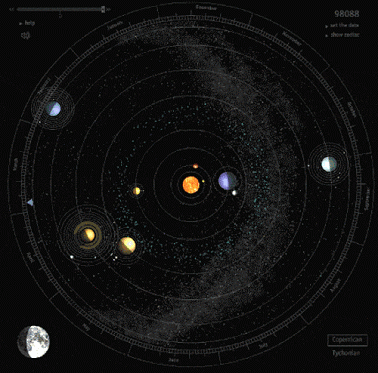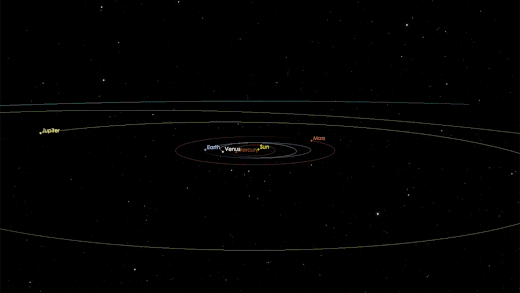 This animation shows the path of A/2017 U1, which is an asteroid — or perhaps a comet — 
as it passed through our inner solar system in September and October 2017. From analysis of its motion, 
scientists calculate that it probably originated from outside our Solar System. 
Credit: NASA/JPL-Caltech.
Thus a nightly search for near-Earth objects may have uncovered an object whose origins lie much further away.
 A/2017 U1 is about 400 meters in diameter and on a highly unusual trajectory,
 one that fits neither an asteroid or comet from our own Solar System. Davide Farnocchia (JPL)
 is a scientist at NASA's Center for Near-Earth Object Studies (CNEOS):

Planetary orbits in the Fourth Dimension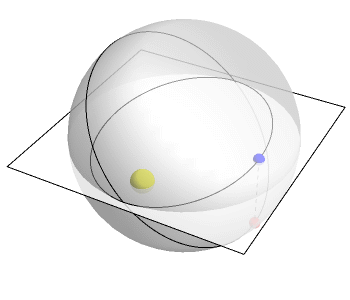 You probably that planets go around the sun in elliptical orbits. But do you know why? 

In fact, they're moving in circles in 4 dimensions. But when these circles are projected down to 3-dimenisons
…

Solar system diagrams from Table Whale.com! amazing!
The Website of the Planetary Space Institute
---
Click here to return to top of page
---
---
Click here to return to top of page
---
Our Solar System
NASA Space Sounds

Uploaded on Feb 10, 2010
NASA Space Sounds - Information about the recordings and sample sounds of the planets,

moons and rings of planets in our Solar System.

 [Note: both Song of Earth and Voice of Earth are man made compositions of the original Earth recordings.] 

 , see:"For live 24hr sound from space
Category
Science & Technology
License
Standard YouTube License

NASA's Solar System Page
---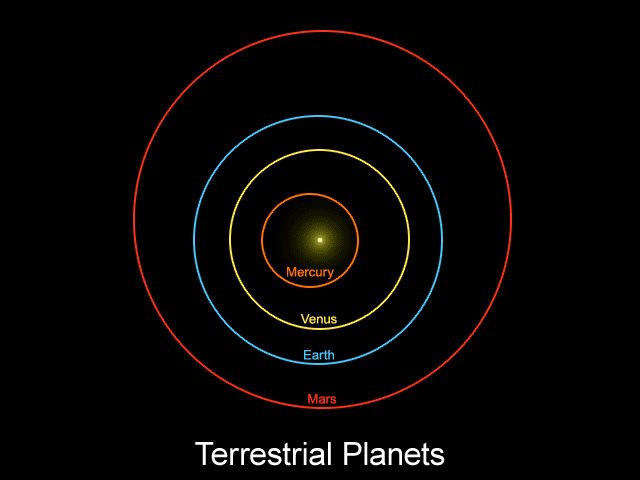 Animated diagram showing the spacing of the Solar Systems planet's, the unusually closely spaced orbits 
of six of the most distant KBOs, and the possible "Planet 9".
 Credit: Caltech/nagualdesign

LSST: Constructing a New Era in Astronomy

Published on May 2, 2017
Fly over the summit of Cerro Pachón in Chile with us and see how quickly LSST is becoming a reality!
 This video documents the progress of construction so far, dramatically capturing the scale and complexity of the ongoing project.
A multimedia team was contracted to document the project via drone film footage, time-lapse sequences, 
panorama images, and full dome clips. This LSST blog post describes the details of the film crew's March 2017
  visit to the construction site:

Music licensed from Extreme Music

Use policy
Category
Science & Technology
License
Standard YouTube License

Click here to return to top of page
---
---
Click here to return to top of page
---
---
Click here to return to top of page
---
---
Click here to return to top of page
---
---
Click here to return to top of page
---
---