Inroduction to the solar system
Current status of the deep space network
Solar System Guide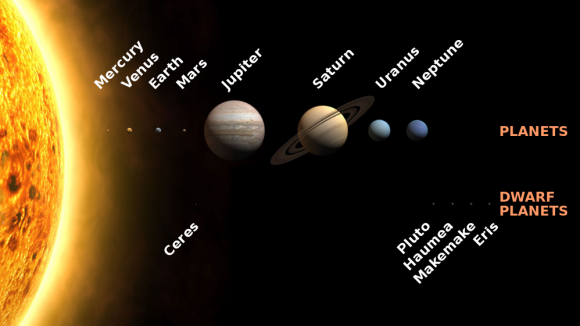 The Solar System. Image Credit: NASA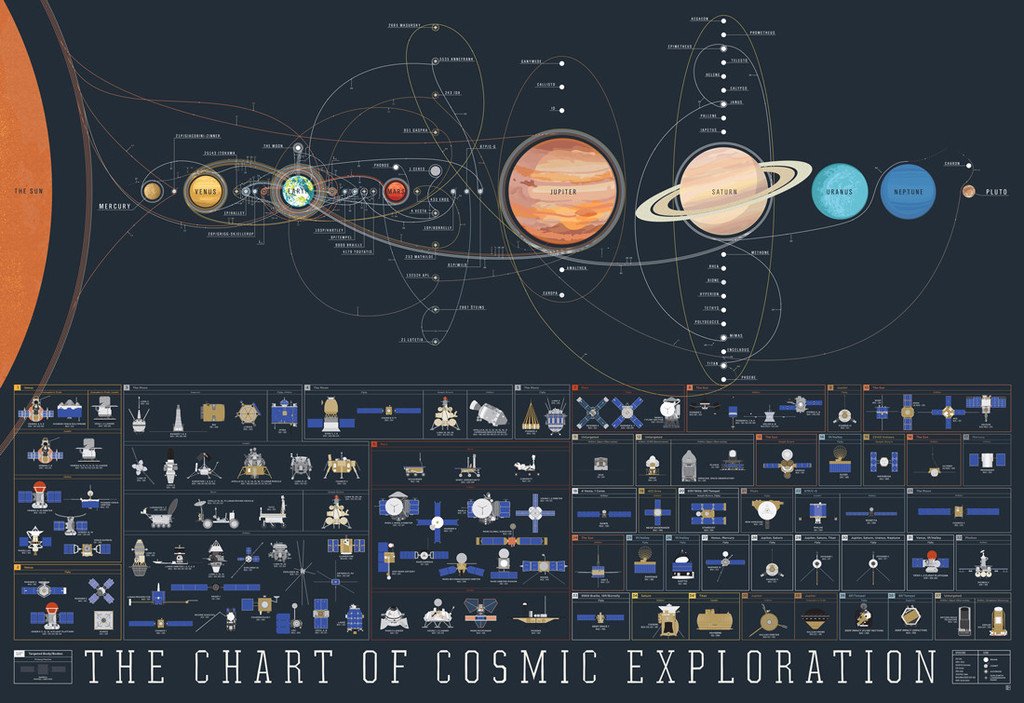 Get ready for an intergalactic (ok, maybe intragalactic) adventure! Pop Chart Lab
 has distilled more than half a century of space travel into a beautiful print. 
 The Chart of Cosmic Exploration features hand-illustrated renderings of every orbiter,
 lander, rover, flyby, and impactor to ever successfully slip the surly bonds of Earth's orbit. 
 Plus all of our pretty-cool planets in our pretty-great Solar System. Details -
 Dimensions: 36 x 24 inches (60.96 x 91.44 cm) - Each poster comes packaged 
 in a Pop Chart Lab Test Tube - 100 lb. archival stock certified by The Forest Stewardship Council -
 Poster is pressed in Long Island City with vegetable-based inks About Pop Chart Lab In 2010, 
 a book editor and a graphic designer joined forces with one modest goal: to render all
 of human experience in chart form. They went on to amass no small renown (that is, a ton of renown)
 for their infographical treatments of the varieties of beer, the full array of culinary tools,
 a taxonomy of hip-hop, and dozens more mappings of cultural touchstones. Now, with a small team
 of researchers, designers, and soldiers, Pop Chart Lab continues to assemble, sift, cull,
 and arrange massive amounts of cultural data into meaningful works of art and information.

The Major Planets of Our Solar System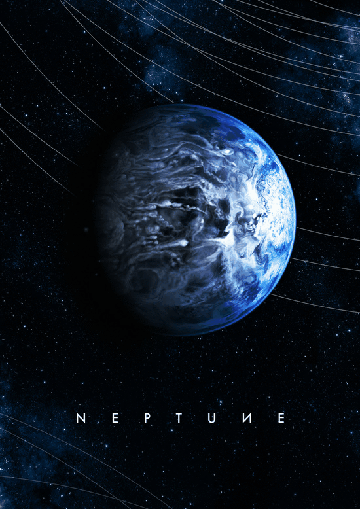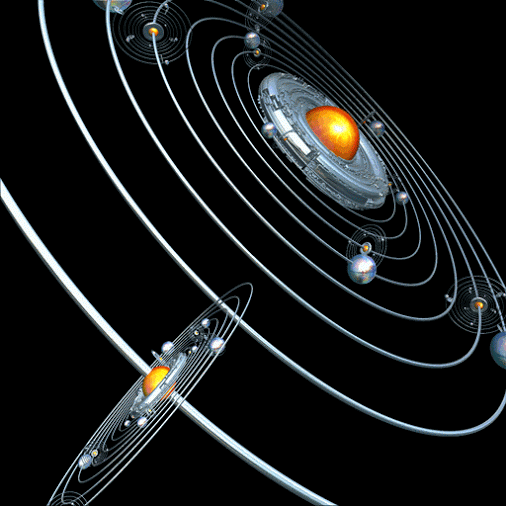 Information on the solar system from space facts.com
The Solar System to scale
The earth Venus orbital symmetery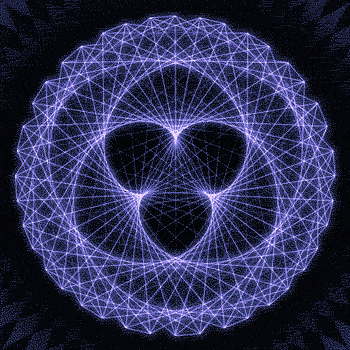 as seen in the solar system (by no ridiculous coincidence), Earth orbits the Sun 8 times in the same period that Venus orbits the Sun 13 times! 

Drawing a line between Earth & Venus every week results in a spectacular FIVE side symmetry!! 

Lets bring up those Fibonacci numbers again: 1, 1, 2, 3, 5, 8, 13, 21, 34.. So if we imagine planets with Fibonacci orbits, do they

 create Fibonacci symmetries?! You bet!! 

Planetary orbits in the Fourth Dimension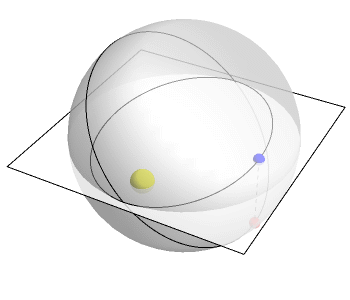 You probably that planets go around the sun in elliptical orbits. But do you know why? 

In fact, they're moving in circles in 4 dimensions. But when these circles are projected down to 3-dimenisons
…

The Solar System In HD
Cool action Solar System Action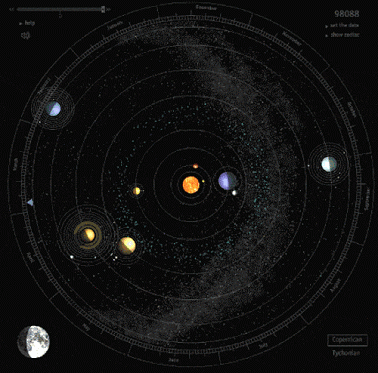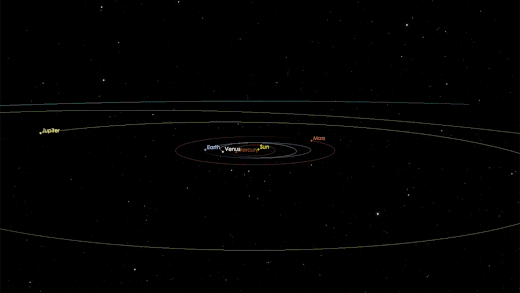 This animation shows the path of A/2017 U1, which is an asteroid — or perhaps a comet — 
as it passed through our inner solar system in September and October 2017. From analysis of its motion, 
scientists calculate that it probably originated from outside our Solar System. 
Credit: NASA/JPL-Caltech.
Thus a nightly search for near-Earth objects may have uncovered an object whose origins lie much further away.
 A/2017 U1 is about 400 meters in diameter and on a highly unusual trajectory,
 one that fits neither an asteroid or comet from our own Solar System. Davide Farnocchia (JPL)
 is a scientist at NASA's Center for Near-Earth Object Studies (CNEOS):

NASA IS PLANNING TO TEST PULSARS AS COSMIC NAVIGATION BEACONS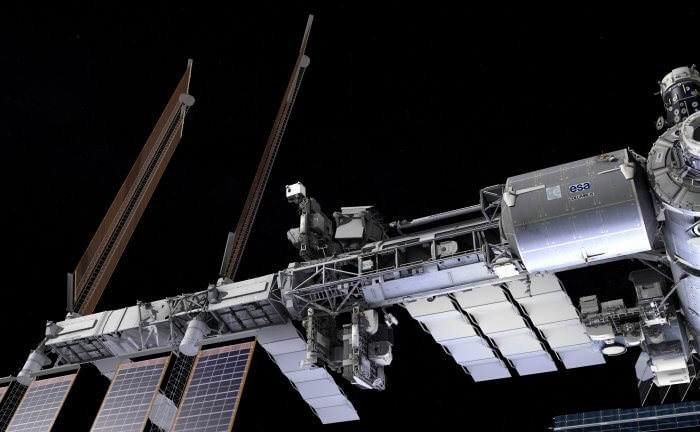 SEXTANT will demonstrate a GPS-like absolute position determination capability by observing millisecond pulsars. 
Credit: NASA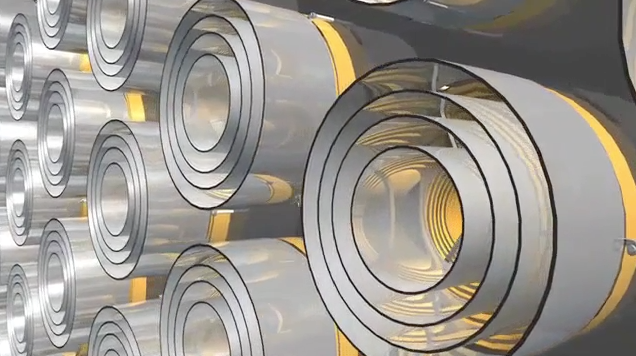 This image shows the configuration of NICER's 56 X-ray mirrors that will gather scientific
 observations and play an instrumental role in demonstration X-ray navigation.
Credits: NASA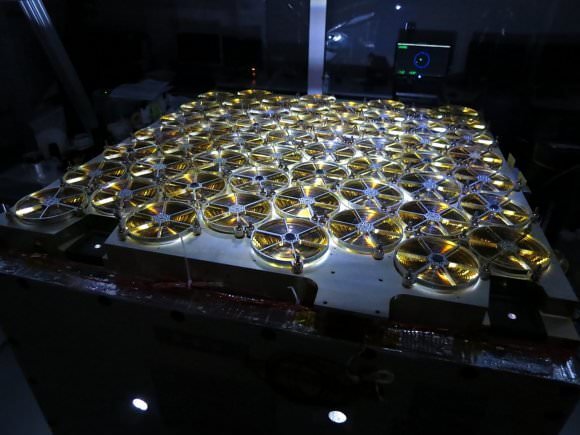 The NICER payload, shown here on the outside of the International Space Station. 
Credit: NASA

Unlocking Secrets of Neutron Stars with NICER

Published on May 26, 2017
Though we know neutron stars are small and extremely dense, there are still many aspects of these remnants 
of explosive deaths of other stars that we have yet tounderstand. NICER, a facility to be mounted on the outside
 of the International Space Station, seeks to find the answers to some of the questions still being asked about neutron stars. 
 By capturing the arrival time and energy of the x-ray photons produced by pulsars emitted by neutron stars,
 NICER seeks answer decades-old questions about extreme forms of matter and energy. Data from NICER will also be used in Sextant,
 an on-board demonstration of pulsar-based navigation.



For more information: 

 Research Overview on nasa.gov

 on Twitter.


HD download link: 
Category
Science & Technology
License
Standard YouTube License

The IAU has revamped their solar system coordinate system.
Now, if you are not planning on a driving vacation on Mercury, this might be a dry bit of information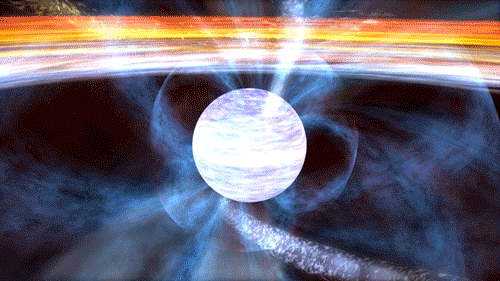 Engineers are considering X-ray navigation - similar to GPS in space -
 for future CubeSat missions to the Moon and human exploration spacecraft. 
Why X-ray? Find out here: