View of the Sun from Mercury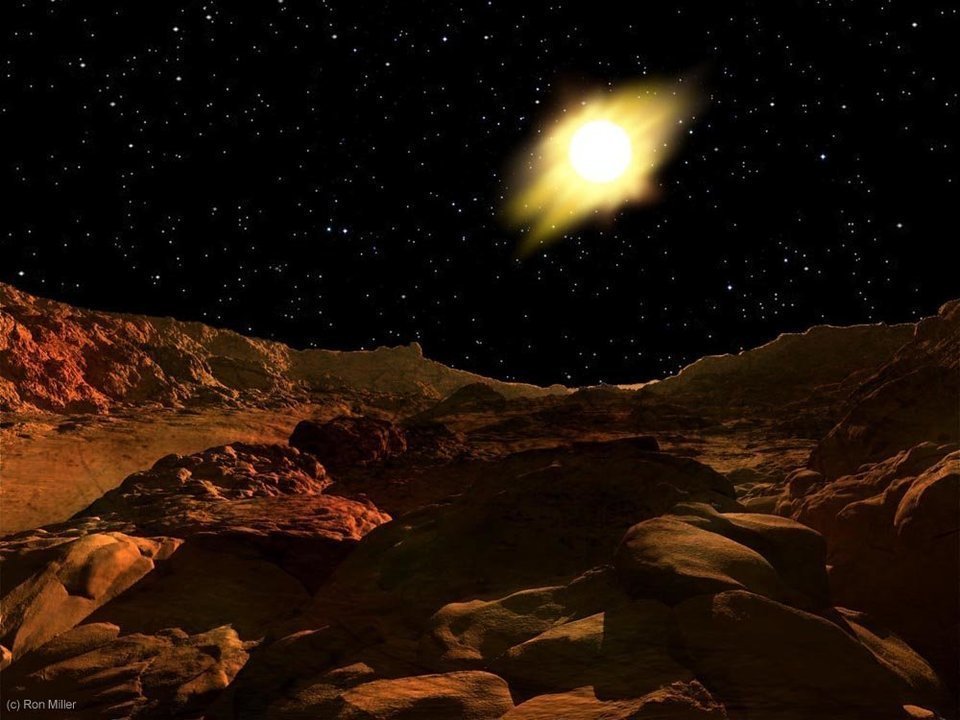 Mercury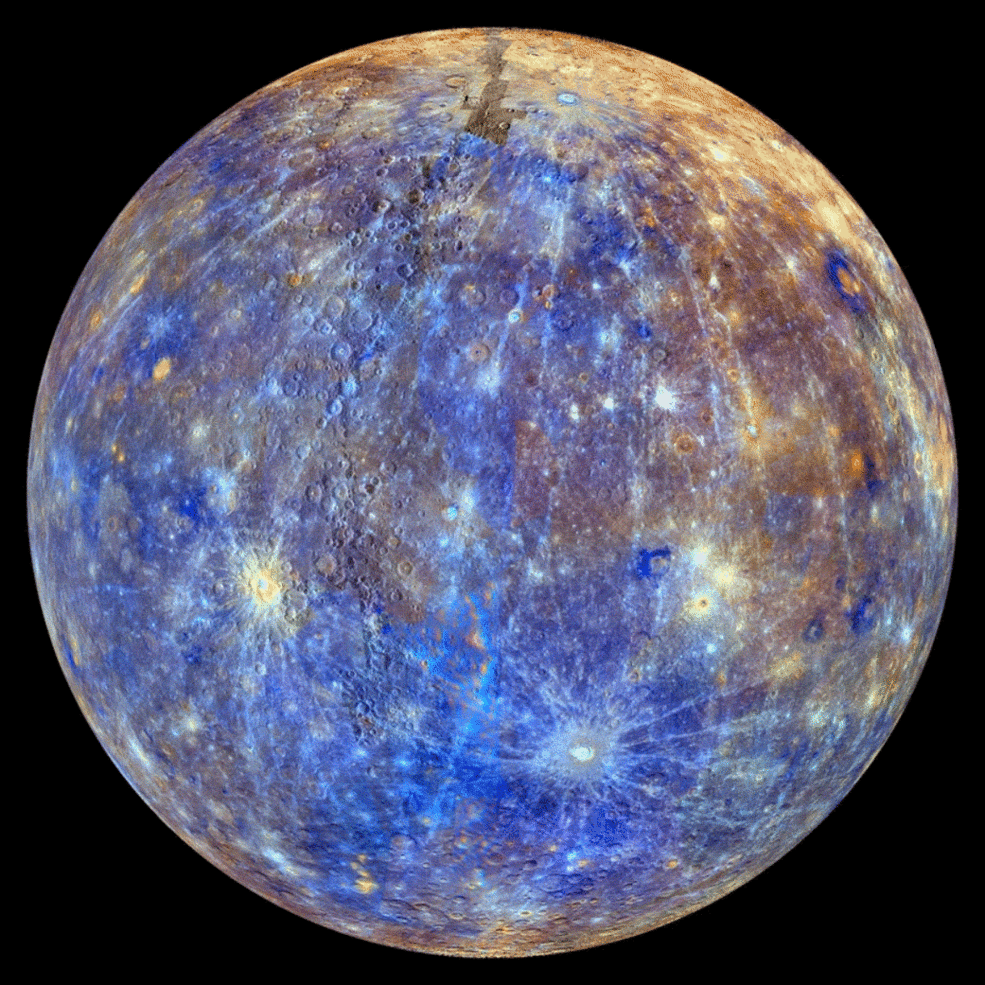 NASA TRAVEL POSTER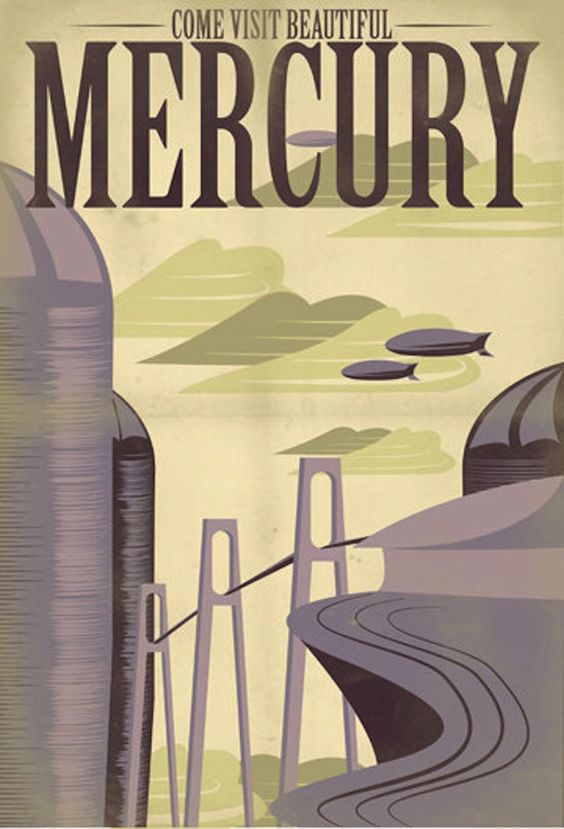 Mission to Mercury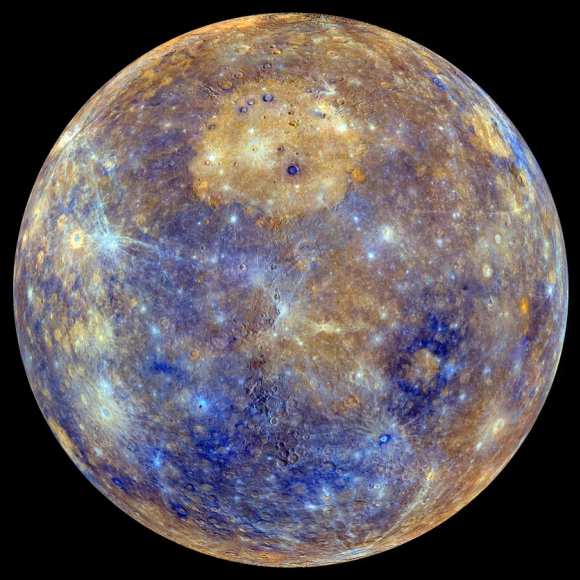 Mercury INFOGRAPHIC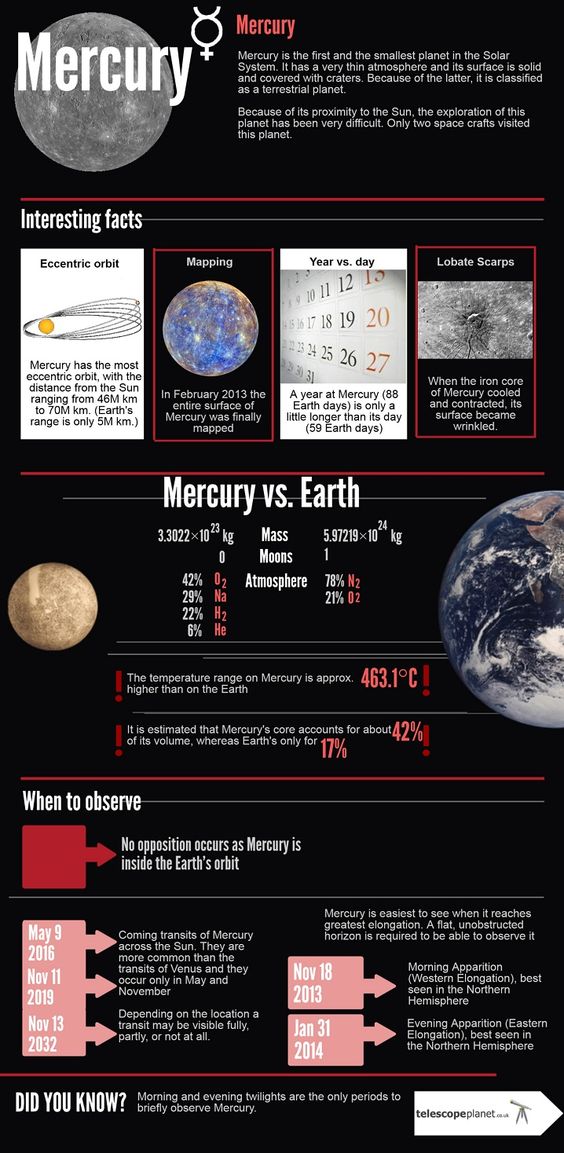 Living on Mercury INFOGRAPHIC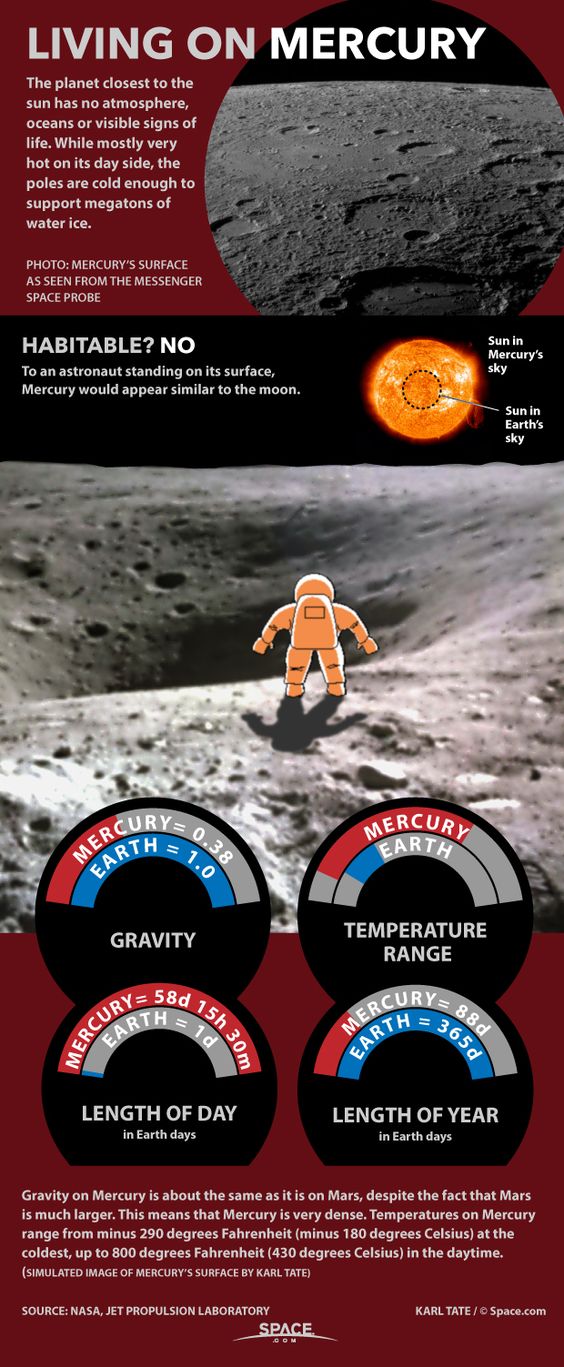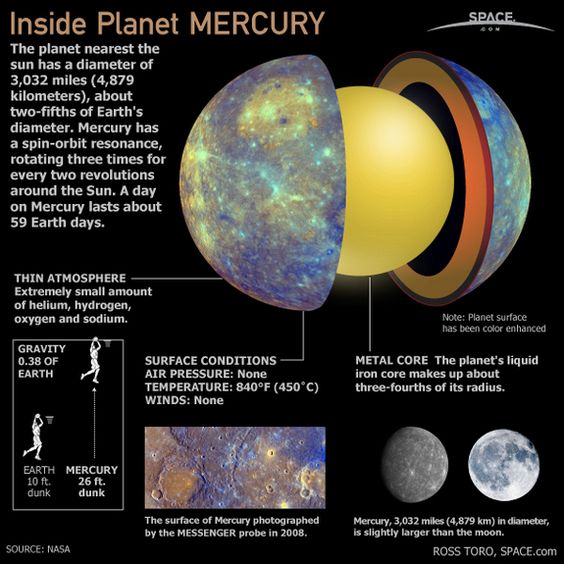 Mercury is the closest planet to the Sun in Earth's solar system, but has no moons and no substantial atmosphere.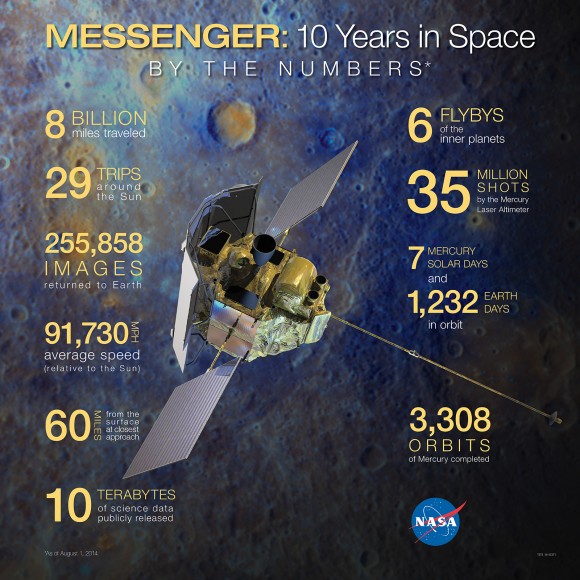 The secrets of Mercury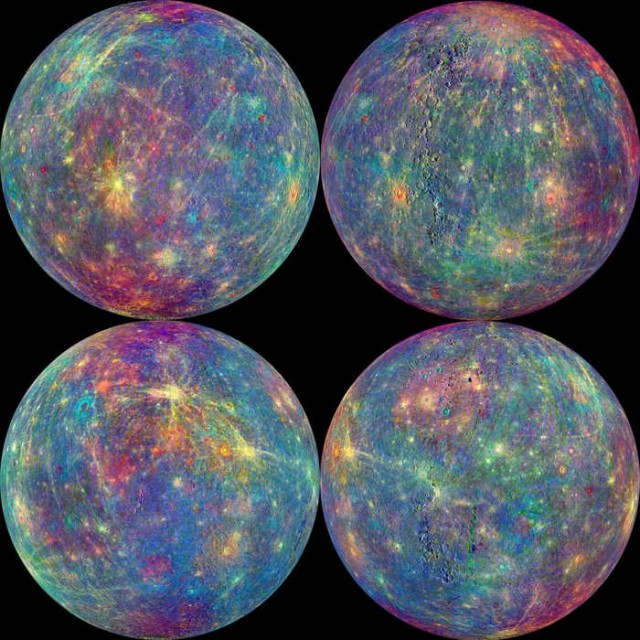 Mercury

These colorful composite new images of Mercury, provide colorful diversity of surface materials in never seen before detail.

The Mercury Atmosphere and Surface Composition Spectrometer (MASCS) instrument aboard 

NASA's MESSENGER spacecraft was designed to study both the exosphere and surface of the planet Mercury.

MESSENGER False Color Mercury Globe Spin

Published on Jun 11, 2013
All of Mercury Image Credit: NASA/JHU Applied Physics Lab/Carnegie Inst. Washington For the first time,

 the entire surface of planet Mercury has been mapped. Detailed observations of the innermost planet's surprising

 crust have been ongoing since the robotic MESSENGER spacecraft first passed Mercury in 2008 and began orbiting in 2011.

 Previously, much of the Mercury's surface was unknown as it is too far for Earth-bound telescopes to see clearly,...

http://messenger.jhuapl.edu/gallery/s...
Category
Science & Technology
License
Creative Commons Attribution license (reuse allowed)
Remix this video
Source videos
View attributions

The Planet Mercury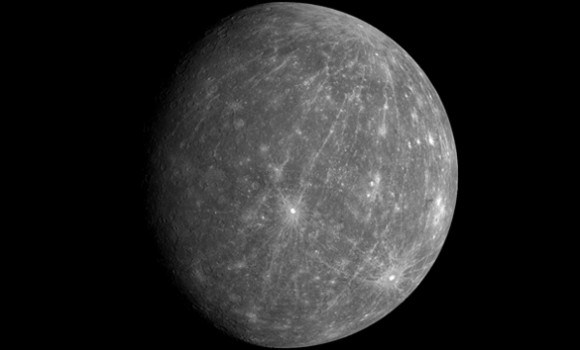 Mercury, as imaged by the MESSENGER spacecraft, revealing parts of the never seen by human eyes.

 Image Credit: NASA/Johns Hopkins University Applied Physics Laboratory/Carnegie Institution of Washington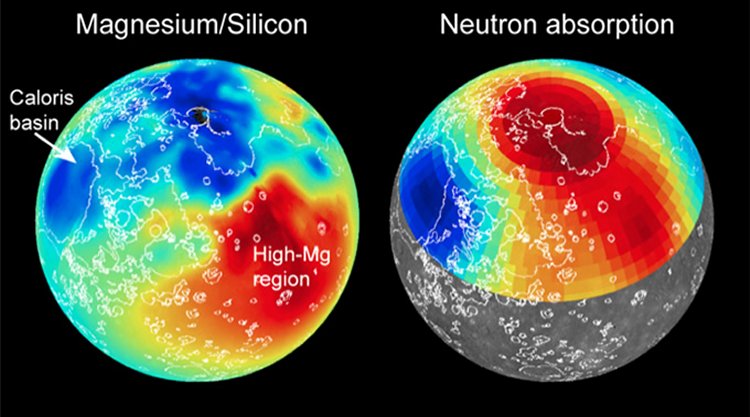 Maps of magnesium/silicon (left) and thermal neutron absorption (right) on Mercury's surface. Red represents high values and blue low ones.

Image credit:  NASA/Johns Hopkins University Applied Physics Laboratory/Carnegie Institution of Washington -

 See more at: http://sen.com/news/mercury-s-hidden-mantle-shows-up-in-new-maps#sthash.uTagBqP8.dpuf


This is the THe Messenger main website


MESSENGER launched from Cape Canaveral Air Force Station on August 3, 2004. It entered orbit around Mercury on March 18, 2011,

the first spacecraft ever to do so. Since then it has performed countless observations of our Solar System's innermost planet 

and has successfully mapped 100% of its surface. Check out the infographic below showing some of the amazing numbers racked up by

 MESSENGER since its launch ten years ago

 
MESSENGER Completes Second Burn to Maintain Mercury Orbit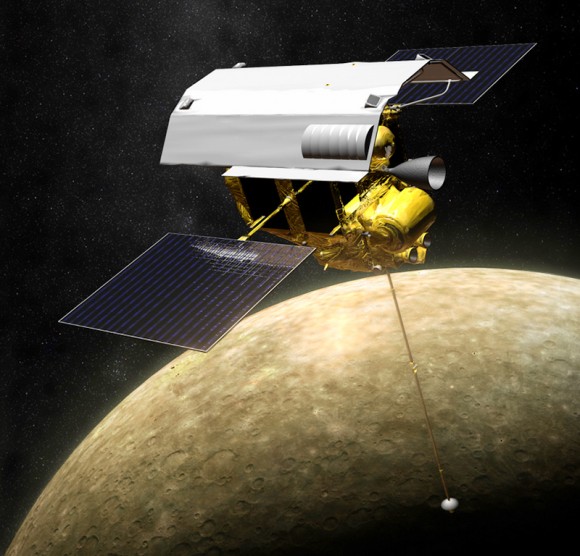 A little over a week before NASA's MAVEN spacecraft fired its rockets to successfully enter orbit around Mars,

 MESSENGER performed a little burn of its own – the second of four orbit correction maneuvers (OCMs) that will allow 

 it to remain in orbit around Mercury until next March. Although it is closing in on the end of its operational life 

 it's nice to know we still have a few more months of images and discoveries from MESSENGER to look forward to!

 


 


 

Delaying Death: Mercury Spacecraft Firing Engines To Stay Up Until 2015



 


 


 


 


 Illustration of MESSENGER in orbit around Mercury (NASA/JPL/APL)

Don't take these spectacular Mercury images (below the jump) for granted. 

Three weeks ago, NASA's orbiting Mercury spacecraft did an engine fire to boost its altitude above the hothouse planet.

 Another one is scheduled for January.

 










An Oblique View of Abedin Is One of MESSENGER's Final Scenes



 


 











The possibly-volcanic crater Adedin on Mercury by MESSENGER.

Credit: NASA/Johns Hopkins University Applied Physics Laboratory/Carnegie Institution of Washington.
The 72-mile (116-km) -wide crater Adedin is seen at an oblique angle in this mosaic made from images 

acquired by NASA's MESSENGER spacecraft. The angle highlights the crater's central peak complex which surrounds

 a shallow depression that could have a volcanic origin, as well as fine cracks in the floor of its basin and a slumped 

 and terraced section of its far wall. The crater was named after the Bangladeshi painter Zainul Abedin (1914-1976).

 







DARK STAINS ON MERCURY REVEAL ITS ANCIENT CRUST
 7 Mar , 2016 by Jason Major



 


 











 


Expanded-color image of Mercury's 52-km Degas crater, showing an abundance of low-reflectance material (LRM).
 








 











 


Low-reflectance material surrounding an 80-km crater called Basho, imaged in May 2012
 
















Mercury MESSENGER Mission Concludes with a Smashing Finale!

by BOB KING on APRIL 30, 2015



 











Over and out! This is the final image acquired and transmitted back to Earth by MESSENGER this afternoon, April 30, 2015.

We're seeing a small area 0.6 miles (1 km) across on the  floor of the 93-kilometer-diameter crater Jokai. 

The spacecraft struck the planet just north of Shakespeare basin at the predicted time.

 Credit: NASA/Johns Hopkins University Applied Physics Laboratory/Carnegie Institution of Washington















Name That Crater On Mercury! MESSENGER Team Opens Public Contest

by ELIZABETH HOWELL on DECEMBER 16, 2014t



 











The crater Scarlatti (at center) shines clearly in this image of Mercury taken by the MESSENGER spacecraft.

 Credit: NASA/Johns Hopkins University Applied Physics Laboratory/Carnegie Institution of Washington

Here's your rare chance to leave a lasting mark on a piece of the Solar System. The team behind the MESSENGER spacecraft —

 that machine orbiting Mercury since 2011 — is asking the public to help them name craters on the planet, in an open contest.









Get a Change of View of Mercury's North Pole

by JASON MAJOR on JANUARY 5, 2015



 











A forced perspective view of Prokofiev crater near Mercury's north pole

It's always good to get a little change of perspective, and with this image we achieve just that: 

it's a view of Mercury's north pole projected as it might be seen from above a slightly more southerly latitude.

Thanks to the MESSENGER spacecraft, with which this image was originally acquired, as well as the Arecibo Observatory here on Earth, 

scientists now know that these polar craters contain large deposits of water ice – which may seem surprising on an airless

and searing-hot planet located so close to the Sun but not when you realize that the interiors of these craters never actually receive sunlight.















MORE SURFACE ICE ON MERCURY THAN PREVIOUSLY THOUGHT, SAYS NEW STUDY



 














 





View of Mercury's north pole. based on MESSENGER probe data, showing polar deposits of water ice.
 Credit: NASA/Johns Hopkins University Applied Physics Laboratory/Carnegie Institution 
 of Washington/National Astronomy and Ionosphere Center, Arecibo Observatory.















 





Artist's concept of the MESSENGER spacecraft on approach to Mercury. 
Credit: NASA/JPL





















A view of the crater Prokofiev on Mercury. The crater is the largest one on the planet's north pole 
area to have "radar-bright" material, a probable sign of ice.
 Credit: NASA/JHUAPL/CIW






 











A forced perspective view of Prokofiev crater near Mercury's north pole
It's always good to get a little change of perspective, and with this image we achieve just that:
it's a view of Mercury's north pole projected as it might be seen from above a slightly more southerly latitude.
Thanks to the MESSENGER spacecraft, with which this image was originally acquired, as well as the Arecibo Observatory here on Earth,
scientists now know that these polar craters contain large deposits of water ice – which may seem surprising on an airless
and searing-hot planet located so close to the Sun but not when you realize that the interiors of these craters never actually receive sunlight.














Faces of the Solar System

by DAVID DICKINSON on JULY 28, 2015



 











Move over, Pluto… Disney already has dibs on Mercury as seen in this MESSENGER photo.

 Image credit: NASA/JHAPL/Carnegie institution of Washington











The Stunning Highs and Lows of Mercury



 














Published on May 6, 2016
Data from NASA's MESSENGER mission have been used to create this animation of the first global digital elevation model (DEM) of Mercury,

revealing in stunning detail the topography across the entire innermost planet and paving the way for scientists to fully characterize its 

geologic history. Mercury's surface is colored according to the topography of the surface, with regions with higher elevations colored brown, 

yellow, and red, and regions with lower elevations shown in blue and purple.

 The MESSENGER spacecraft was launched on Aug. 3, 2004, and began orbiting Mercury on March 17, 2011.

 It spent four years capturing images and information about the planet closest to the sun in unprecedented detail.
 
Credits: NASA/U.S. Geological Survey/Arizona State University/Carnegie Institution of Washington/Johns Hopkins University Applied Physics Laboratory

Category
Science & Technology
License
Standard YouTube License








Scientists Create Global Topographic Map of Mercury












A team of scientists from NASA, the U.S. Geological Survey, Arizona State University, Carnegie Institute of Washington 

and Johns Hopkins University Applied Physics Laboratory has created the first global topographic map of the planet Mercury.



















Topographic map of Mercury with labeled features. Mercury's surface is colored according the topography of the surface,

with regions with higher elevations colored brown, yellow and red, and regions with lower elevations appearing blue and purple.

 The highest elevation on the planet is located just south of the equator, and about 2.5 miles above Mercury's average elevation.

 The lowest elevation, which is more than three miles below Mercury's average, is found on the floor of Rachmaninoff basin,

 a basin suspected to host some of the most recent volcanic deposits on the planet.

 Image credit: NASA / U.S. Geological Survey / Arizona State University / Carnegie Institution of Washington / Johns Hopkins University Applied Physics Laboratory.














MERCURY IS TECTONICALLY ACTIVE & SHRINKING



 














New research suggests that NASA is still contracting and shrinking.

 Credits: NASA/JHUAPL/Carnegie Institution of Washington/USGS/Arizona State University





















Images showing small fault scarps and trough (lower and upper white arrows) found on Mercury;s surface.

 Credits: NASA/JHUAPL/Carnegie Institution of Washington/Smithsonian Institution





















The MESSENGER spacecraft has been in orbit around Mercury since March 2011.

 Credit: NASA/JHU APL/Carnegie Institution of Washington