---
Mission to VENUS
View of the Sun from Venus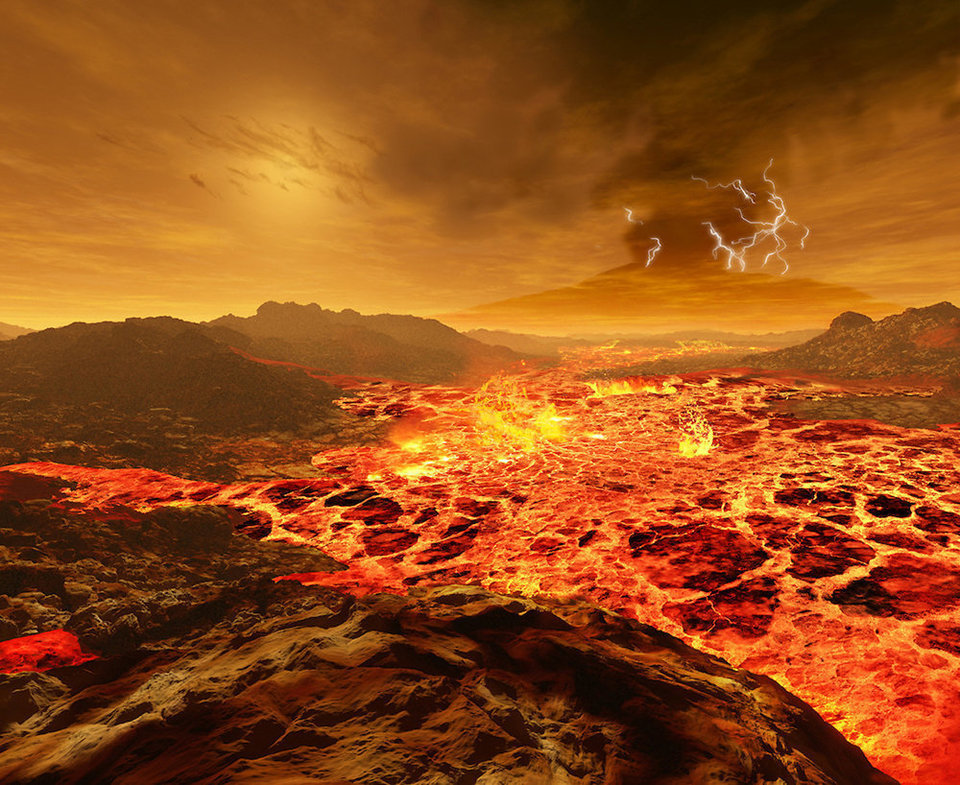 Venus INFOGRAPHIC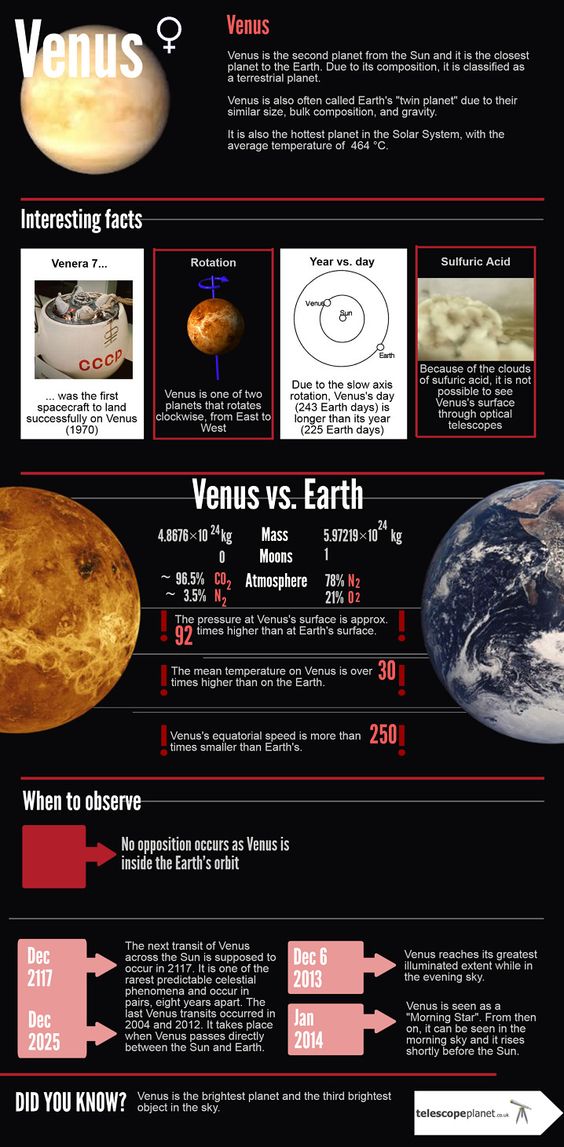 NASA'S Venus TRAVEL POSTER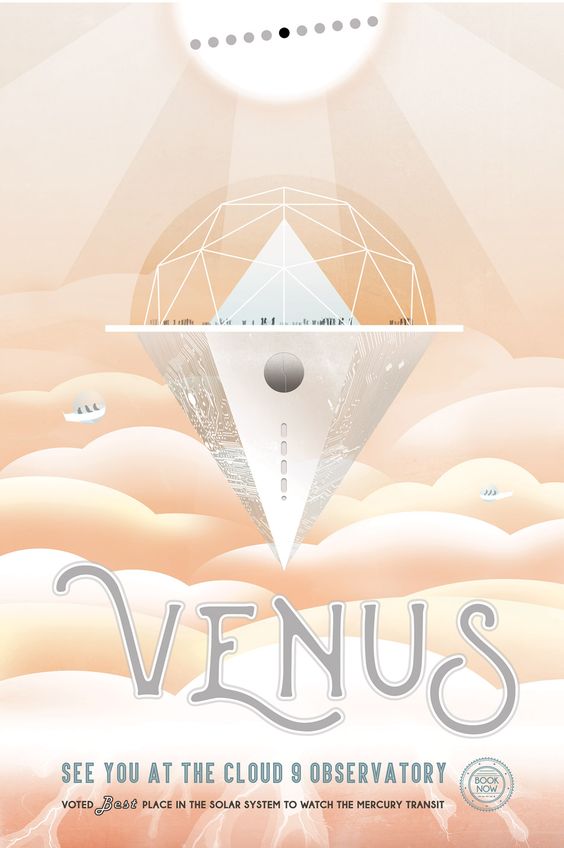 Living on Venus- INFOGRAPHIC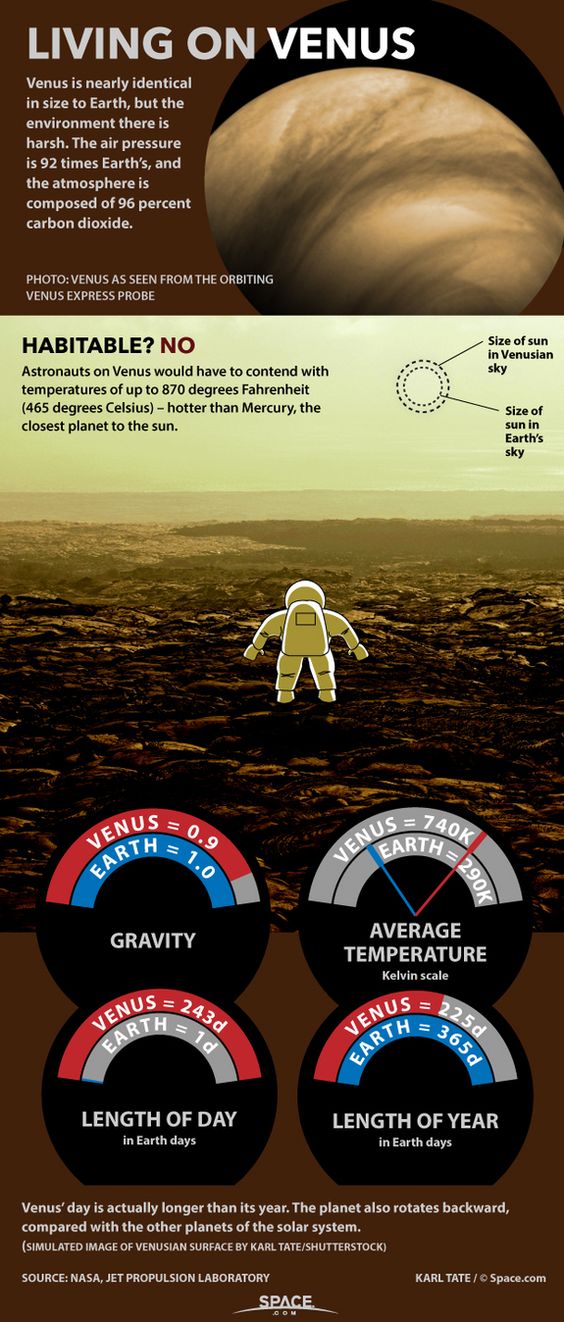 Venus ten facts - INFOGRAPHIC

---
Venus, The Hothouse Planet Near Earth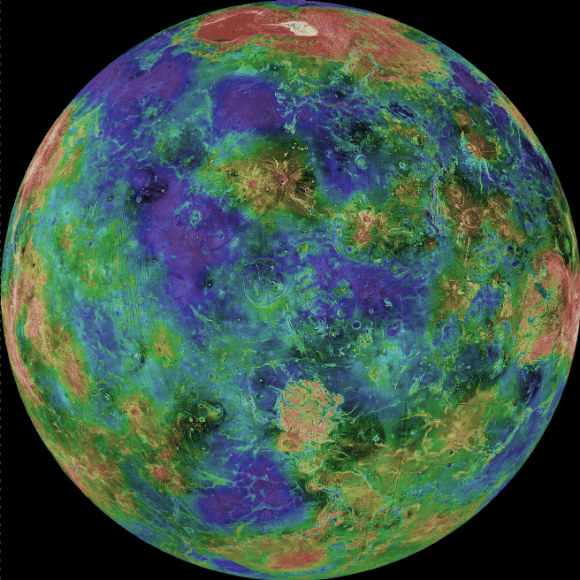 False color radar topographical map of Venus provided by Magellan. Credit: Magellan Team/JPL/NASA

Venus was once considered a twin to Earth, as it's roughly the same size and is relatively close to our planet.

But once astronomers looked at it seriously in the past half-century or so, a lot of contrasts emerged. The biggest one —

Venus is actually a hothouse planet with a runaway greenhouse effect, making it inhospitable to life as we know it.


Venus, The Hothouse Planet Near Earth, Radar Image by Magellan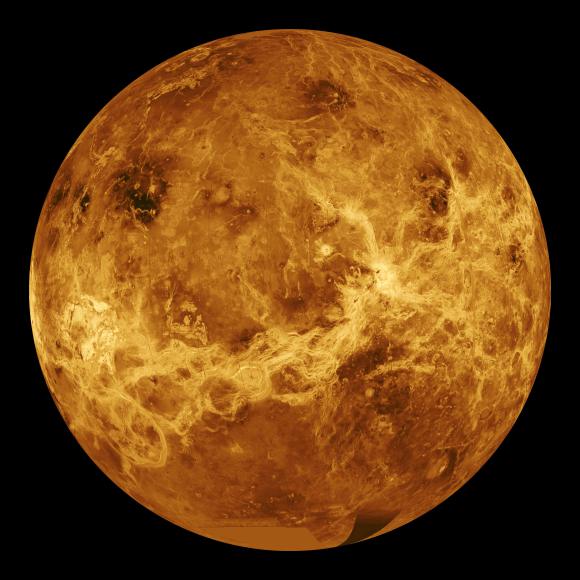 Venus imaged by the Magellan spacecraft. Credit: NASA/JPL

As the morning star, the evening star, and the brightest natural object in the sky (after the Moon),

human beings have been aware of Venus since time immemorial. Even though it would be many thousands of years 

before it was recognized as being a planet, its has been a part of human culture since the beginning of recorded history.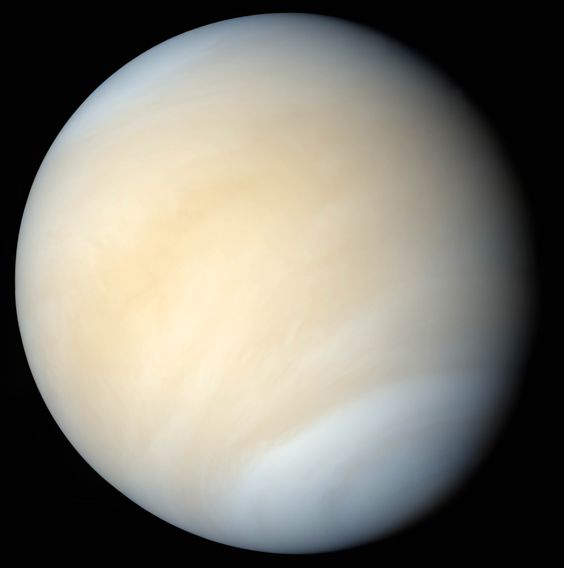 Venus in real colors. Image credit: Mattias Malmer / NASA.

---

Published on Feb 23, 2014

This animation is a brief tour of the global terrain of the planet Venus as revealed by radar onboard the Magellan spacecraft.

 The height of the terrain is color-coded, with blues and greens representing low altitudes and reds representing high altitudes.

 Credit: NASA/Goddard Space Flight Center Scientific Visualization Studio.

 The clouds are an altered version of an image by David Seal, courtesy NASA/JPL-Caltech.

  More:


Venus, MAAT MONS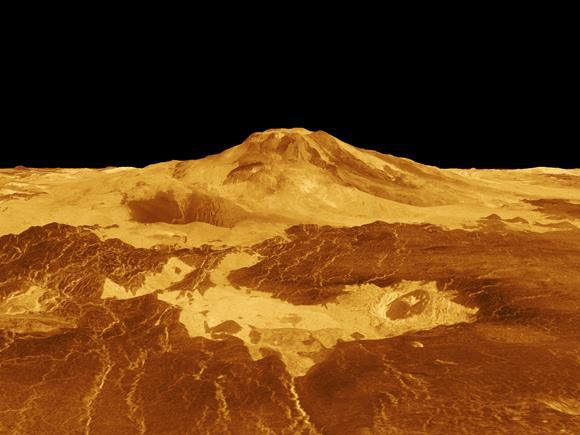 3-D perspective of the Venusian volcano, Maat Mons generated from radar data from NASA's Magellan mission.

NASA SDO - Venus and Coronal Loops

Published on Jun 5, 2012
As we are almost halfway through the Venus Transit, here is a look at Venus through the NASA Solar Dynamics Observatory AIA instrument.

This is in 171 angstrom wavelength. 
This channel is especially good at showing coronal loops - the arcs extending off of the Sun where plasma moves along magnetic field lines.

 The brightest spots seen here are locations where the magnetic field near the surface is exceptionally strong.


Credit: NASA SDO
Category
Education
License
Standard YouTube License

A movie of the Venus' night-side produced by IR2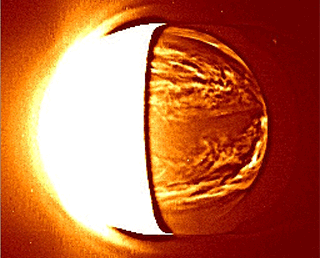 This movie is produced from the IR2 2.26-µm images, acquired on 29 March 2016 at a distance of 0.36 million km.

Original 4 images were acquired with 4-hour intervals from 16:03 JST (07:03 UT).
In 4 hours, the super-rotating clouds move by ~10 degrees. Such images are numerically derotated to produce 

intermediate images so that the resultant motion becomes smoother.

 Deformation, appearance and disapperance of clouds are obvious in this movie.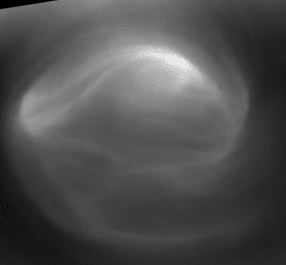 Venus' Southern Swirling Clouds

Venus Express
---
Swansong experiment sheds light on Venus' polar atmosphere
EUROPEAN SPACE AGENCY RELEASE
19 April 2016 Astronomy Now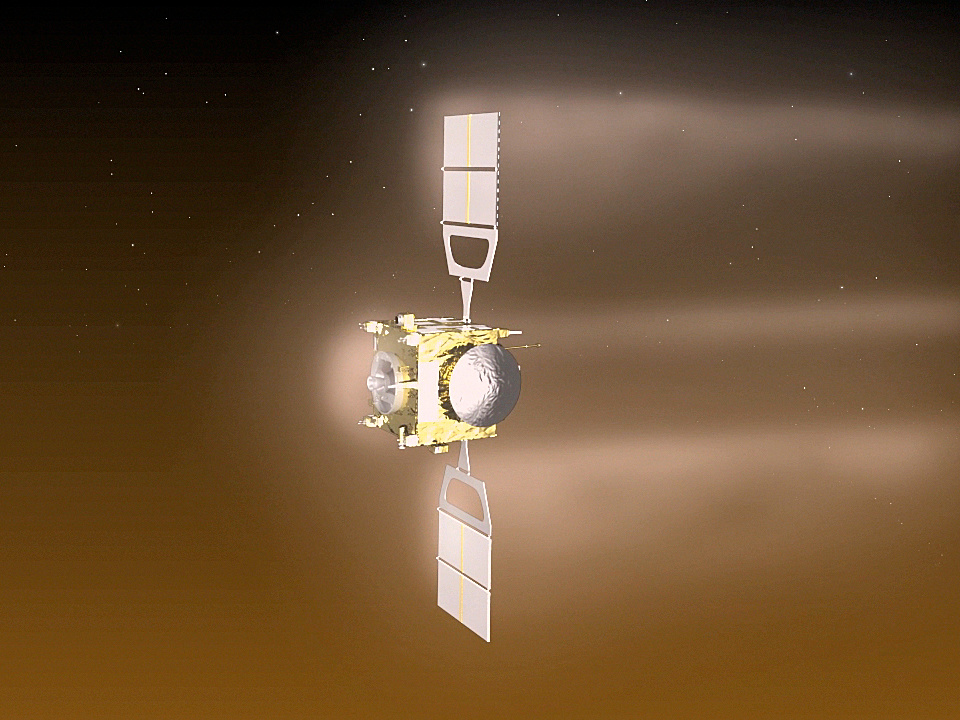 Visualisation of Venus Express performing the aerobraking manoeuvre, during which the spacecraft orbited Venus

at an altitude of around 130 kilometres from 18 June to 11 July 2014. In the month before, 

the altitude was gradually reduced from around 200 to 130 kilometres. 

Image credit: © ESA–C. Carreau.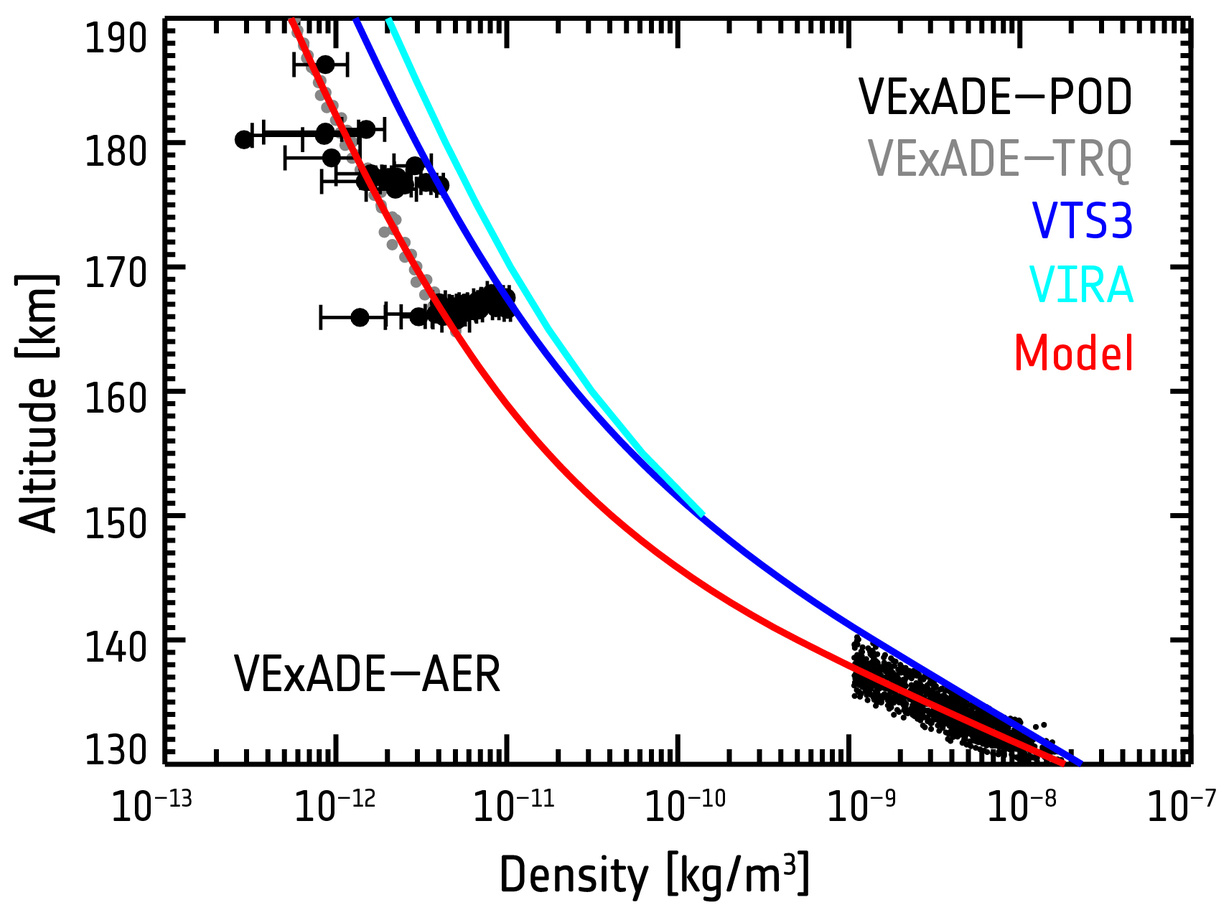 Density profiles of Venus' polar atmosphere. Figure credit: courtesy of I. Müller-Wodarg (Imperial College London, UK).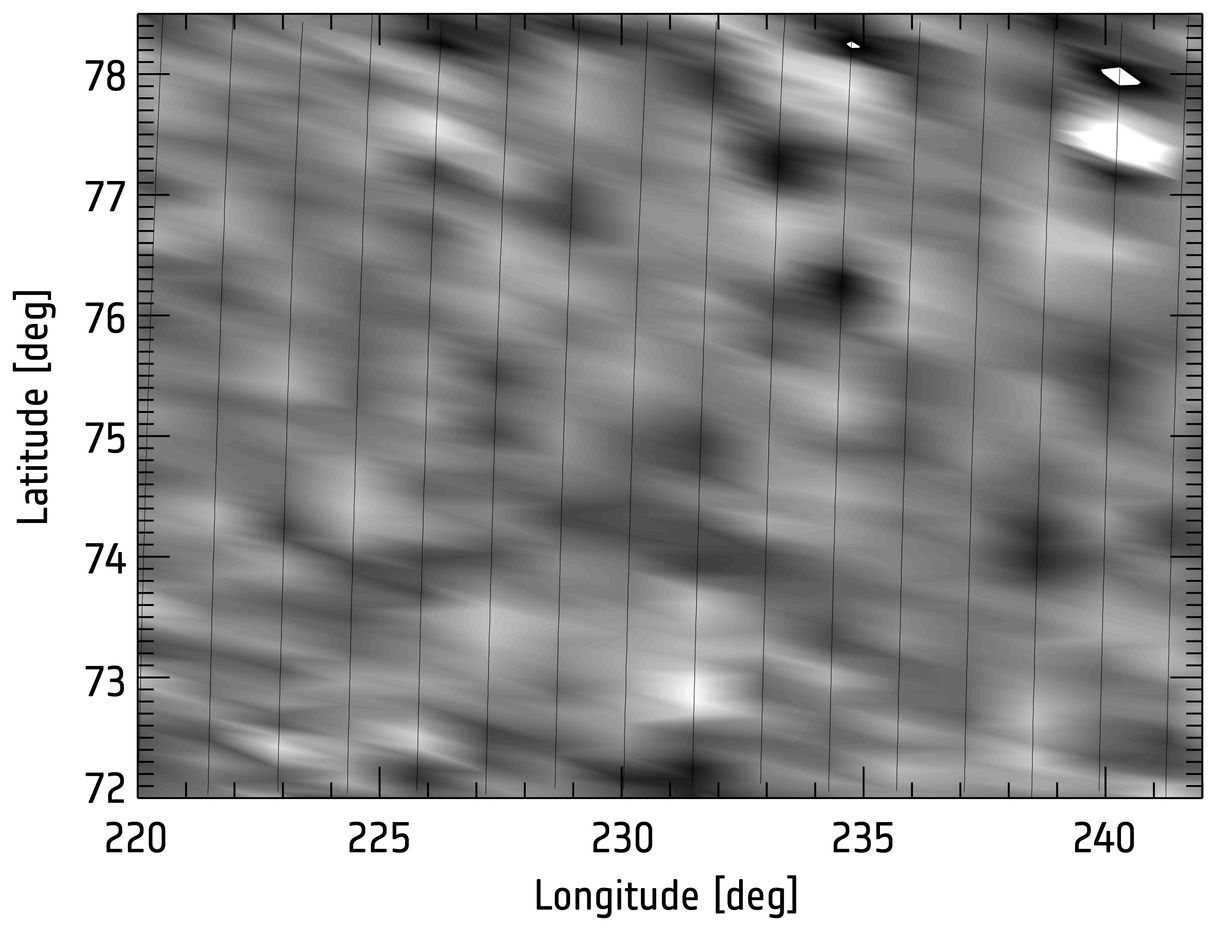 Mapping the density waves in Venus' lower thermosphere. Figure credit: ESA/Venus Express/VExADE/Müller-Wodarg et al., 2016.

---

Published on Jun 10, 2012
Venus as observed by the European Space Agency's Venus Express spacecraft during orbit 1640.

The 58 images comprising the movie were obtained by the Venus Monitoring Camera instrument in ultraviolet light.



Published on Feb 23, 2013
A quick and dirty animation of images obtained by the Venus Express spacecraft. The images were obtained during orbit 1749

(one of the the so-­-called "VEX Terminator Observations").


Venus Express May Be Out Of Fuel After Death-Duelling Maneuvers
by Elizabeth Howell on December 5, 2014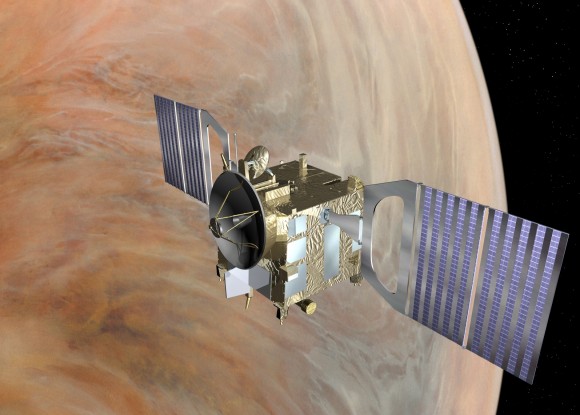 Artist's concept of Venus Express. Credit: ESA


After more than eight years orbiting a hellish planet, Venus Express is showing its age.

The spacecraft made some risky maneuvers this summer, dipping down into the atmosphere as it nears the end of its mission. 

Now, the European Space Agency reports it has mostly lost contact with the probe. The reason could be lack of fuel.


Venus Express Out Of Gas; Mission Concludes, Spacecraft On Death Watch
by ELIZABETH HOWELL on DECEMBER 16, 2014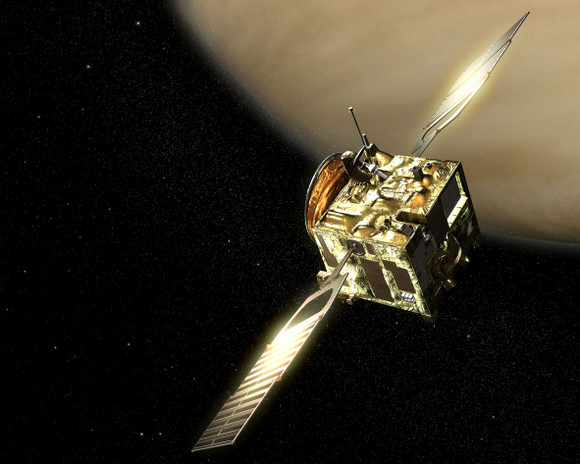 Artist's conception of Venus Express. Image credit: ESA

After surviving an eight-year mission and a daring plunge into part of the atmosphere of Venus,

a plucky spacecraft orbiting the hothouse planet is finished its mission, the European Space Agency declared.

 Venus Express can no longer communicate consistently with Earth


Size Comparison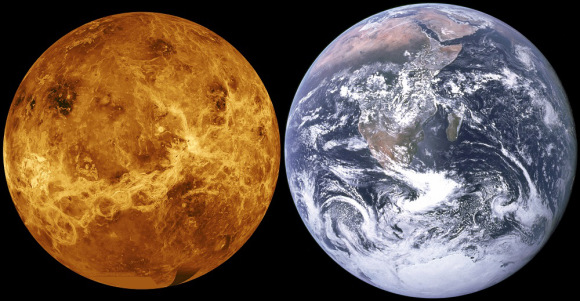 Size comparison of Venus and Earth. Credit: NASA/JPL/Magellan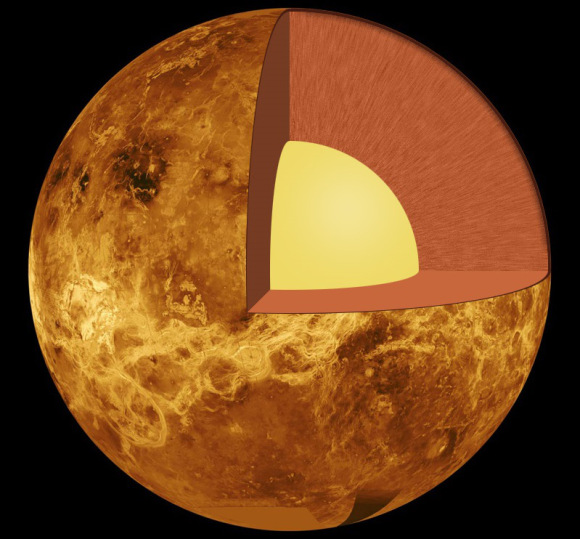 The internal structure of Venus – the crust (outer layer), the mantle (middle layer)

 and the core (yellow inner layer). Credit: Wikipedia Commons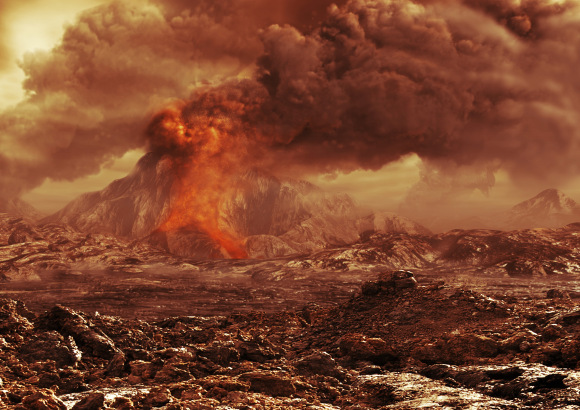 Artist's impression of the surface of Venus Credit: ESA/AOES