MARS COLONY WILL HAVE TO WAIT, SAYS NASA SCIENTISTS 30 Mar , 2016 by Matt Williams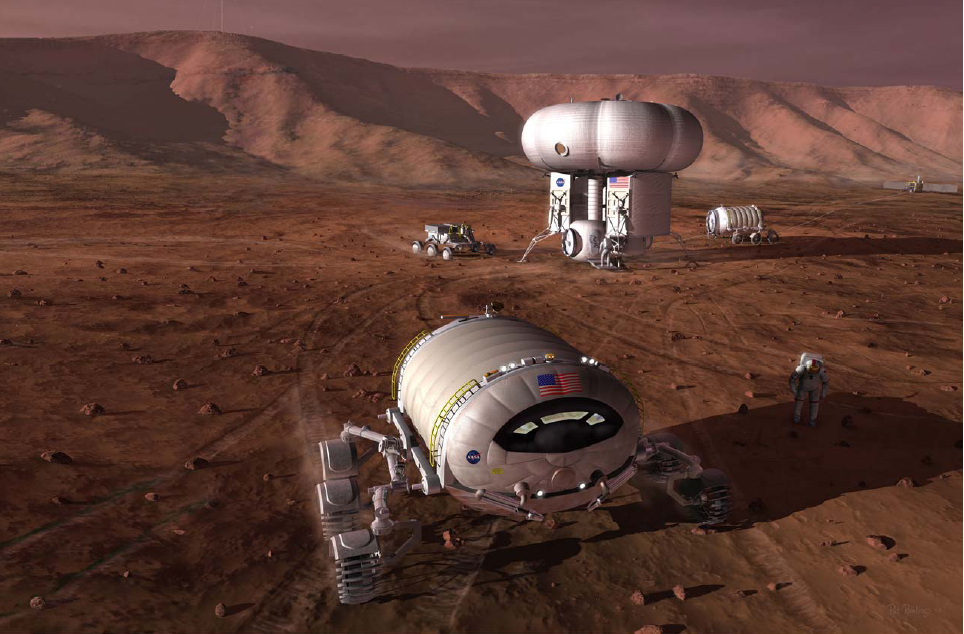 Concept for NASA Design Reference Mission Architecture 5.0 (2009). Credit: NASA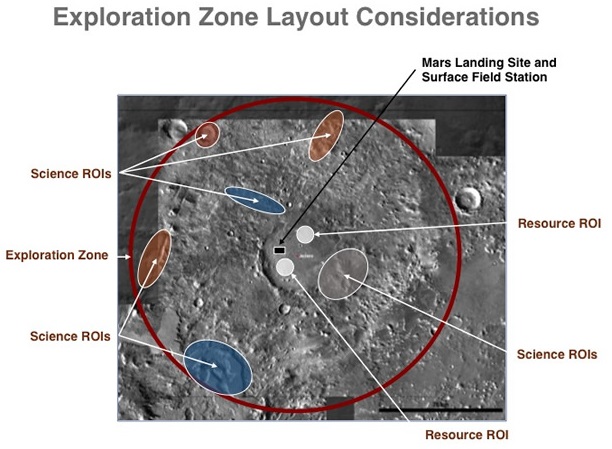 NASA proposed mission to Mars calls for the creation of an "exploration zone",
which will serve as the center of its crewed activities on the Red Planet. Credit: NASA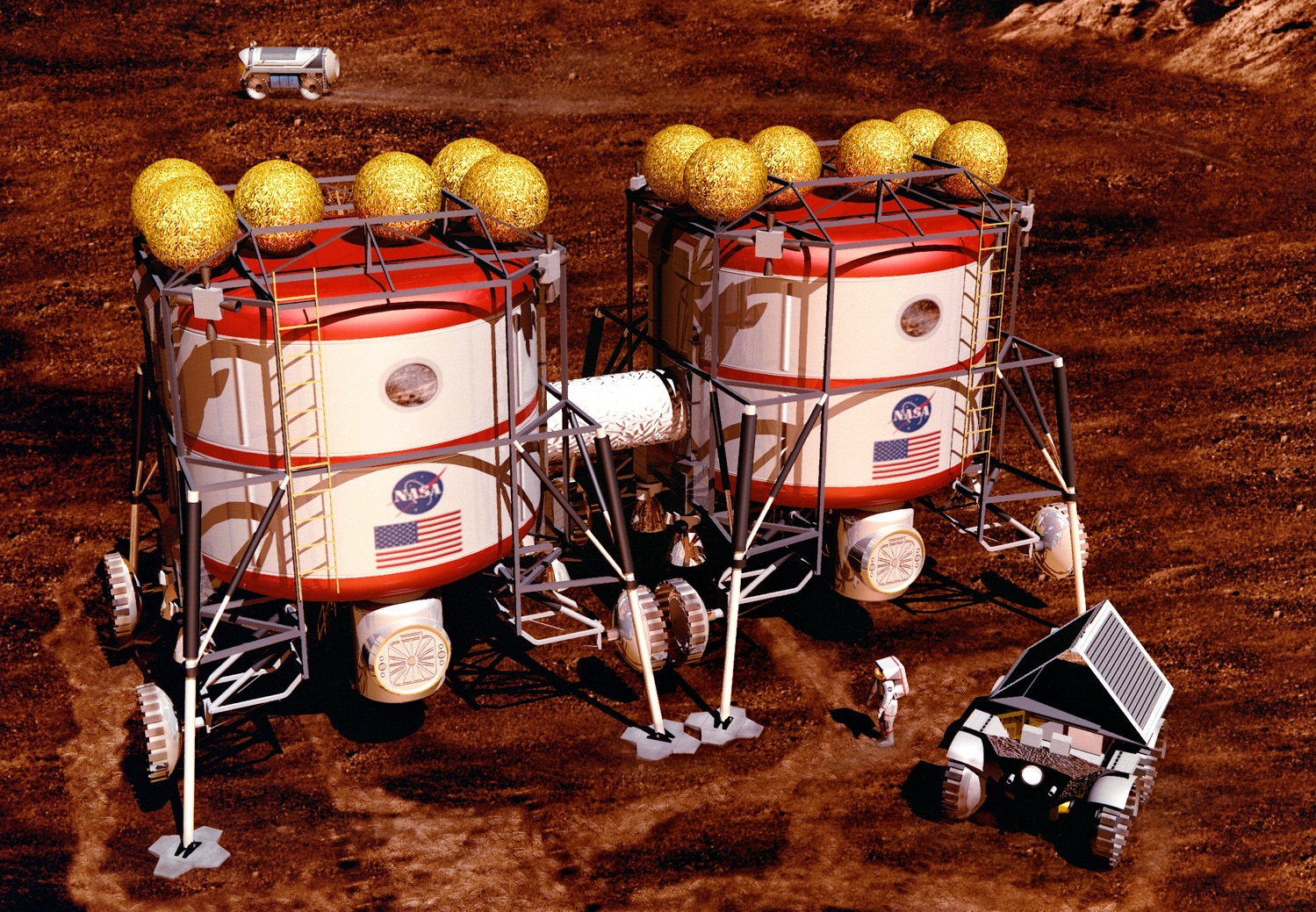 Artist's concept of a Mars habitat and pressurized rover, by John Frassanito and Associates. Credit: NASA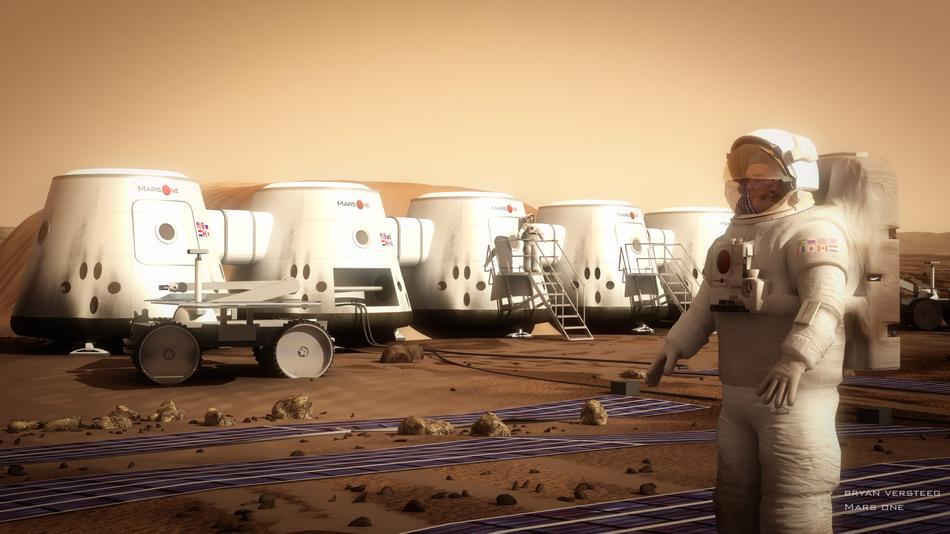 Artist's concept of a Martian astronaut standing outside the Mars One habitat. Credit: Bryan Versteeg/Mars One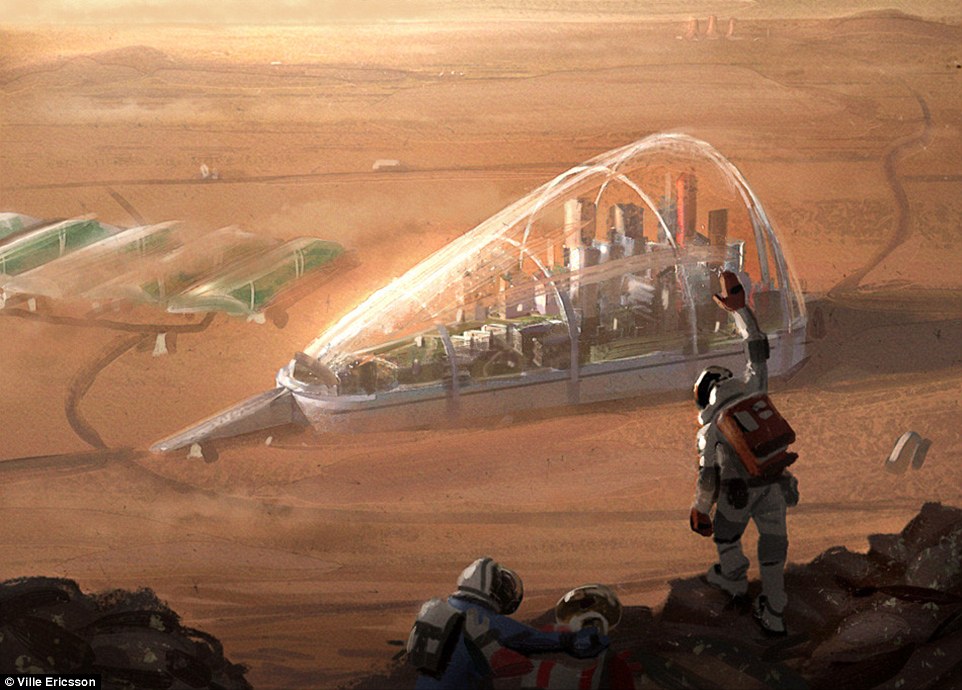 Artist's concept for a possible colony on Mars, by Ville Ericsson. Credit: ville-ericsson.se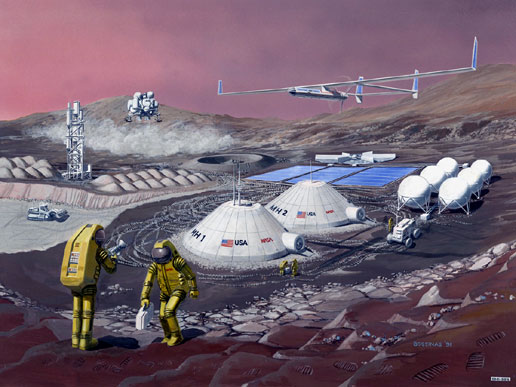 We've been dreaming about a Mars colony for a long time, as the lovely retro drawing shows.
Will SpaceX finally give us one? Image: NASA
GET THAT GEOLOGIST A FLIGHT SUIT!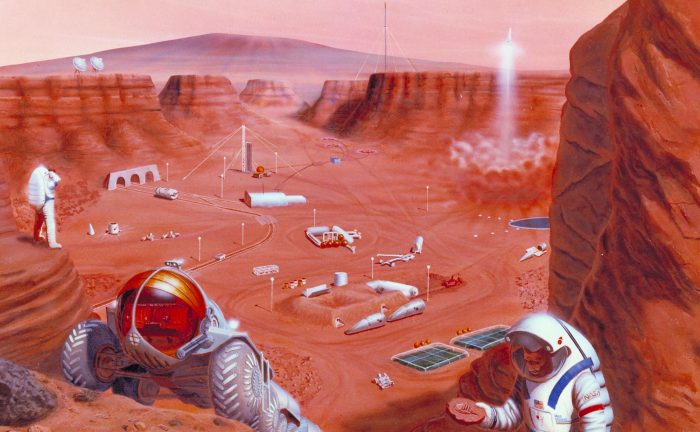 Future missions to Mars and other locations in the Solar System may depend heavily on the skills of planetary geologists.
Credit: NASA Ames Research Center
WHEN WILL WE SEND ASTRONAUTS TO MARS?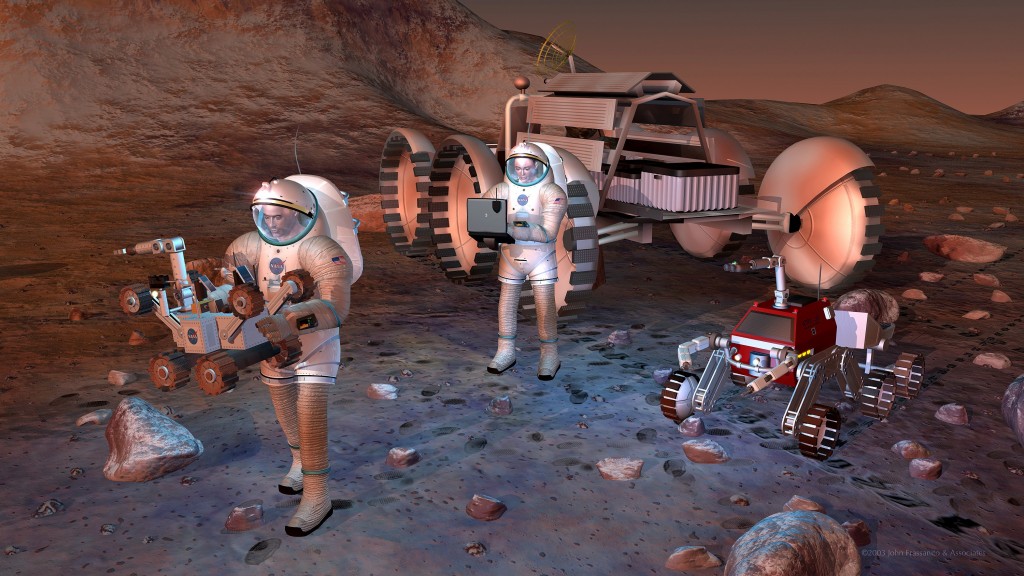 NASA astronauts exploring Mars on future missions starting perhaps in the 2030's
will require protection from long term exposure to the cancer causing space radiation environment.
Credit: NASA.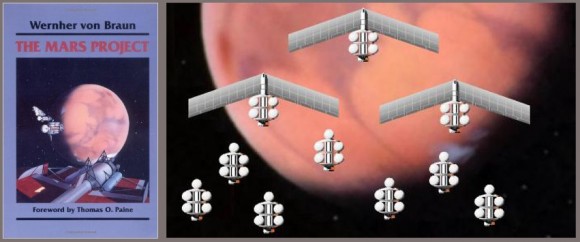 In between launching V-2s in New Mexico and developing rockets at Redstone Arsenal,
Von Braun had time to write Mars Projekt (1952).
Credit: Mars Project, Von Braun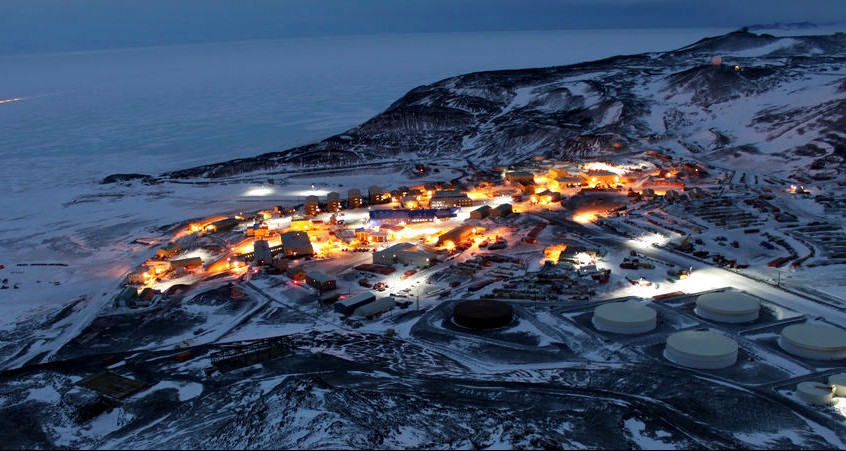 McMurdo Station, the only enduring human presence in Antarctica, pictured at night.
Credit: m.earthtripper.com
First Landing Site / EZ - Opening Plenary
Published on Oct 30, 2015 Opening Plenary Session. Tuesday afternoon, October 27, 2015 Category Science & Technology License Standard YouTube License
ROCKY EXERCISE DEVICE WILL HELP KEEP DEEP SPACE A FIT PLACE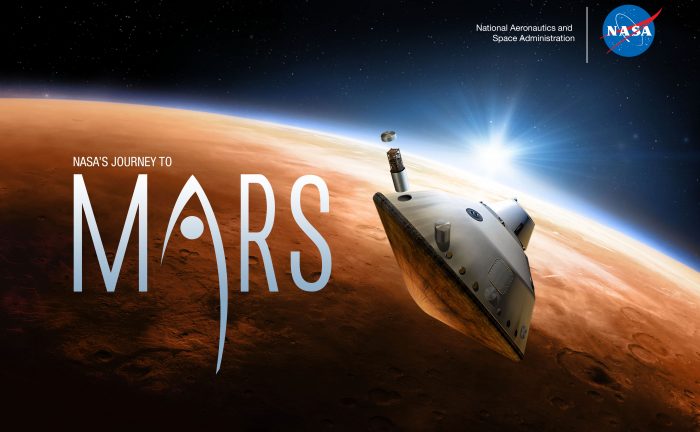 NASA has unveiled a new exercise device that will be used by Orion crews to stay healthy on their mission to Mars. Credit: NASA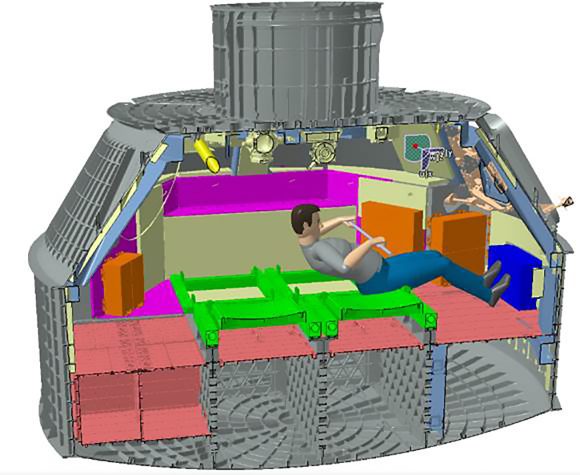 Cutaway of the Orion crew module, showing the ROCKY exercise device in blue,
below the side hatch that astronauts will use to get in and out of the spacecraft. Credit: NASA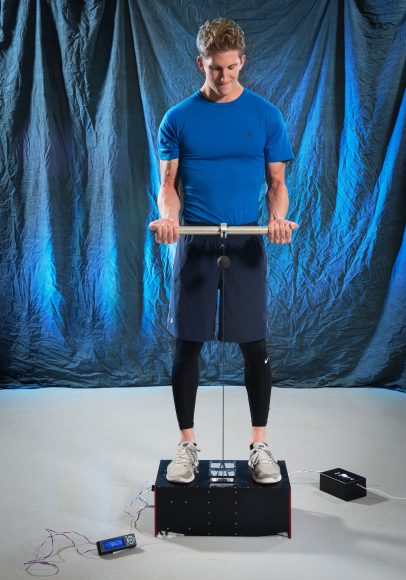 The ROCKY device in action. Credit: NASA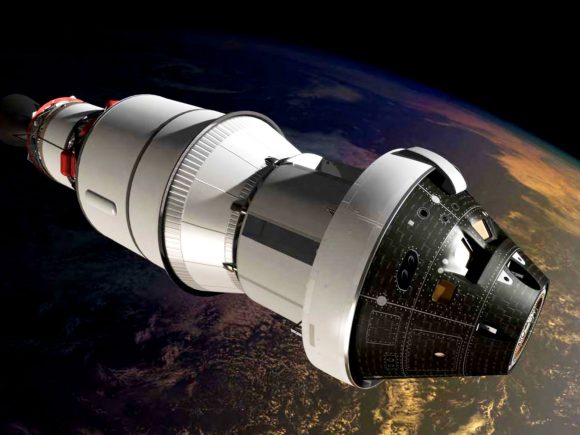 The ROCKY is likely to become a mainstay for future long-term missions using the Orion space capsule. Credit: NASA
NASA's Journey to Mars Ramps Up with InSight, Key Tests Pave Path to 2016 Lander Launch
by KEN KREMER on MAY 29, 2015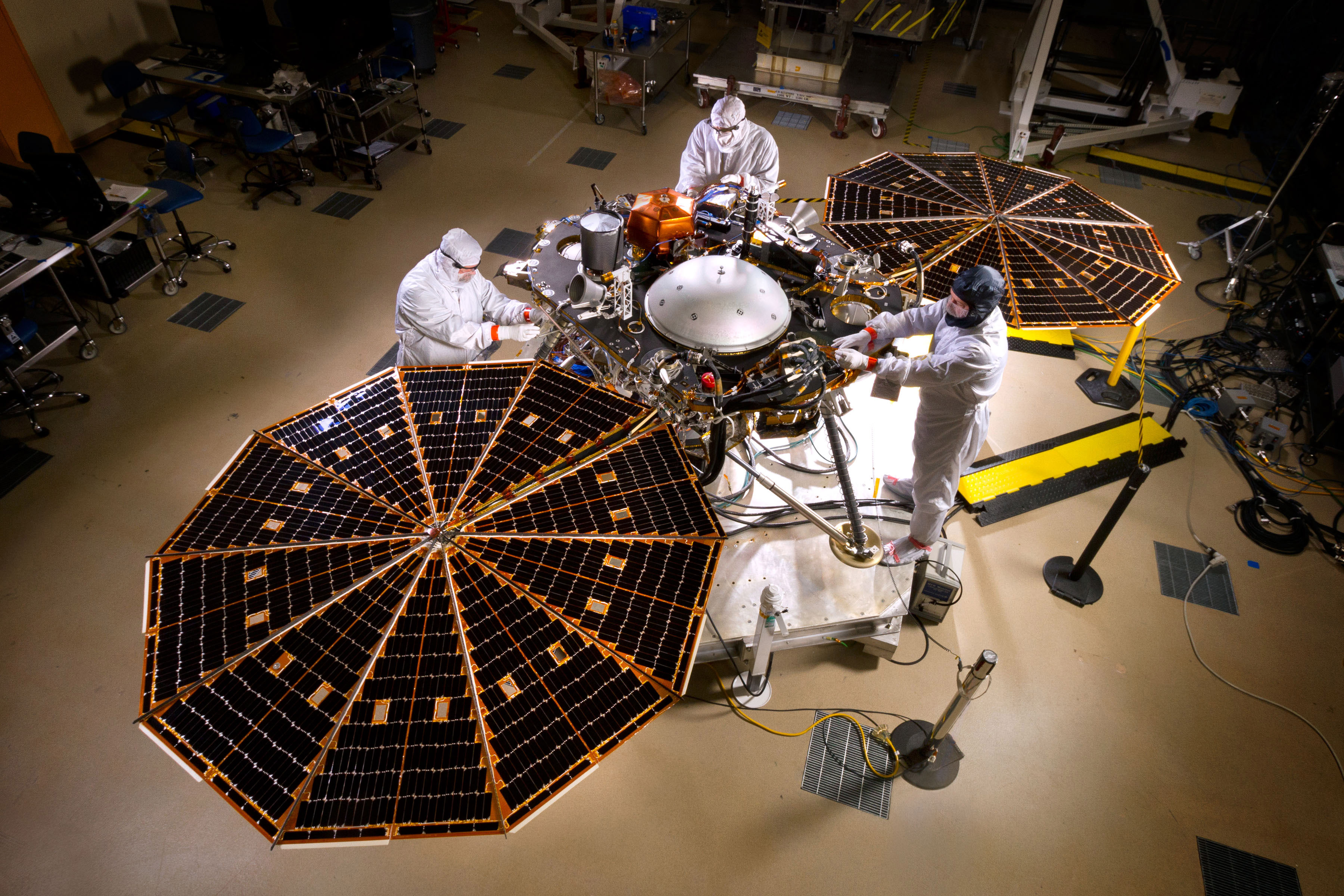 NASA's InSight Mars lander spacecraft in a Lockheed Martin clean room near Denver(May 2015). As part of a series of deployment tests,

the spacecraft was commanded to deploy its solar arrays in the clean room to test and verify the exact process

that it will use on the surface of Mars. 

CREDITS: NASA/JPL-Caltech/Lockheed Martin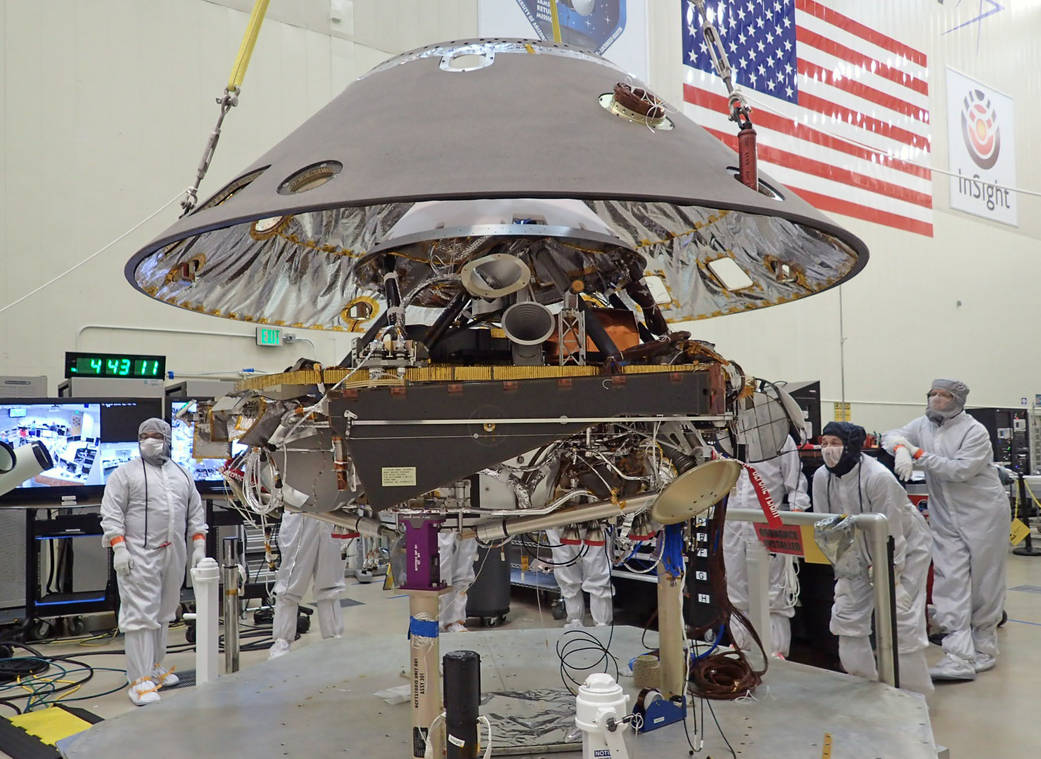 Back shell of NASA's InSight spacecraft is being lowered onto the mission's lander,

 which is folded into its stowed configuration. The back shell and a heat shield form the aeroshell,

 which will protect the lander as the spacecraft plunges into the upper atmosphere of Mars. 

 Launch now rescheduled to May 2018 to fix French-built seismometer.

 Credit: NASA/JPL-Caltech/Lockheed Martin

Mars Cube One: New Deep-Space CubeSats Will Travel to Mars Along With InSight Lander
By Paul Scott Anderson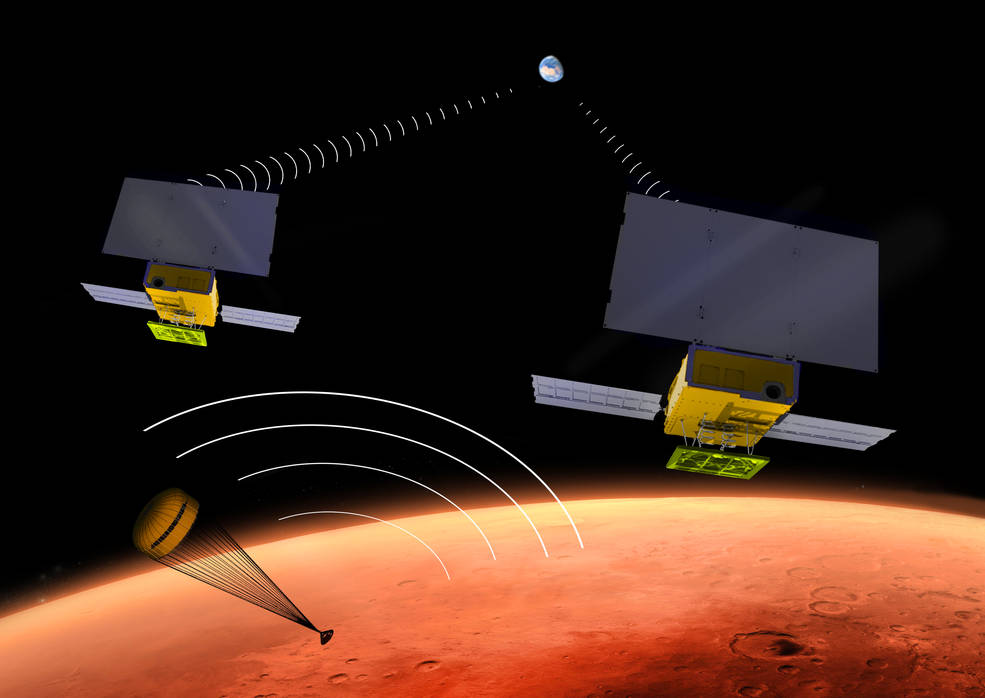 Artist's conception of the MarCO CubeSats flying past Mars as the InSight lander descends to the surface. Image Credit: NASA/JPL-Caltech

The next NASA mission to Mars, the InSight lander, will include some additional experimental technology:

the first deep-space CubeSats. Two small CubeSats will fly past the planet as the lander is descending through the atmosphere; 

this will be the first time CubeSats have been used in an interplanetary mission.


Mars' Insight Mission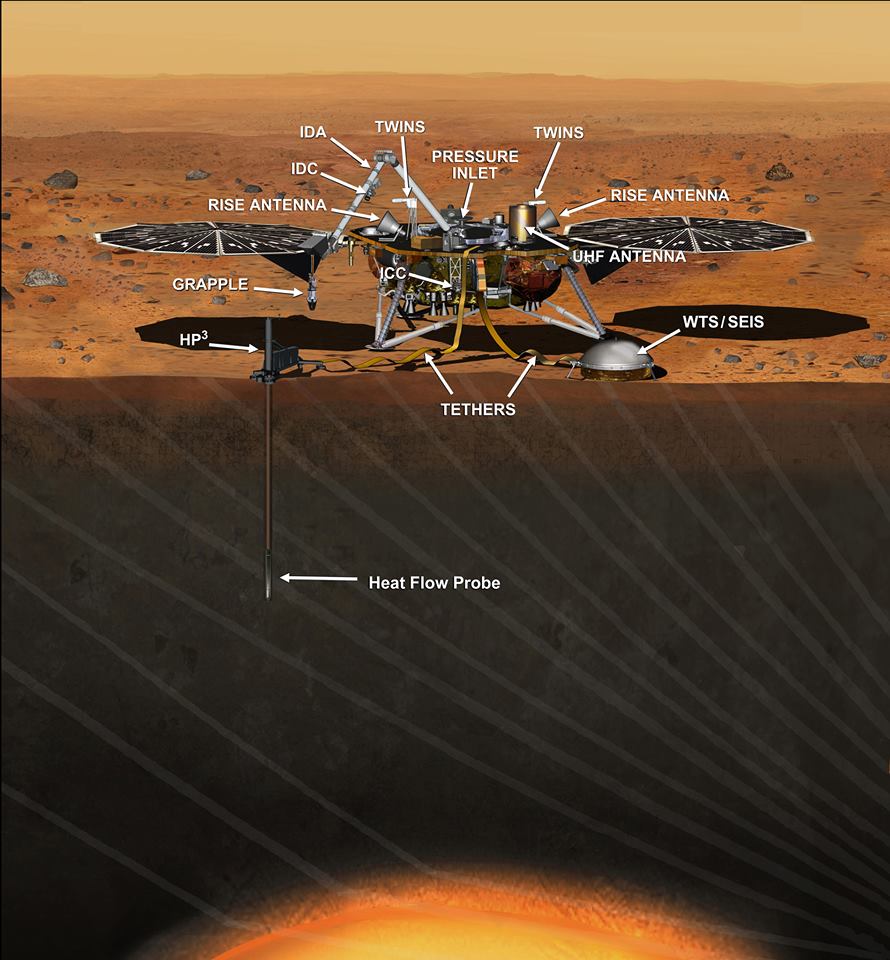 This artist's concept depicts the InSight lander on Mars after the lander's robotic arm has deployed

 a seismometer and a heat probe directly onto the ground. InSight is the first mission dedicated to investigating

 the deep interior of Mars. The findings will advance understanding of how all rocky planets, including Earth,

 formed and evolved. NASA approved a new launch date in May 2018.

 Credits: NASA/JPL-Caltech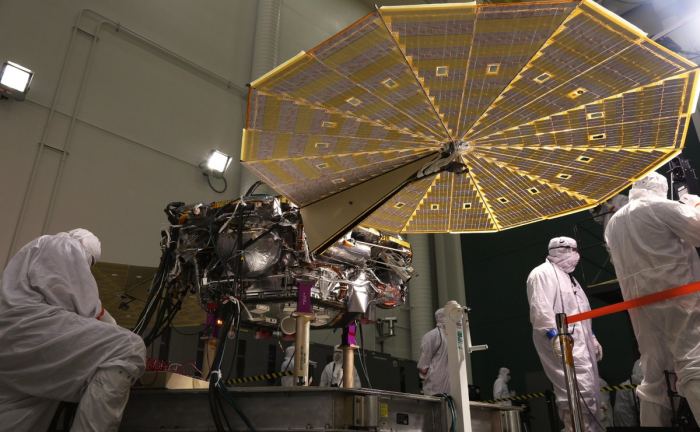 The Insight lander responds to commands to spread its solar arrays during a January 23, 2018 test 
at the Lockheed Martin clean room in Littleton, Colorado.
 Image: Lockheed Martin Space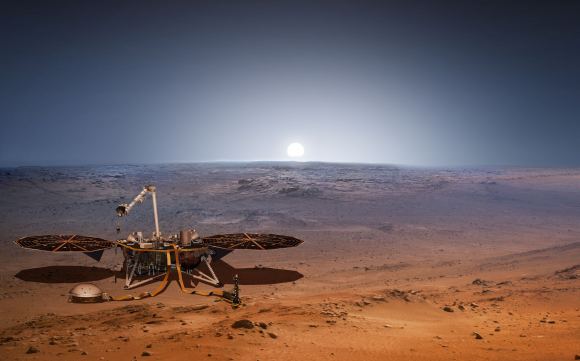 This artist's illustration of InSight on a photo background of Mars shows the lander fully deployed.
 The solar arrays are open, and in the foreground two of its instruments are shown.
 On the left is the SEIS instrument, and on the right is the HP3 probe.
 Image: NASA/Lockheed Martin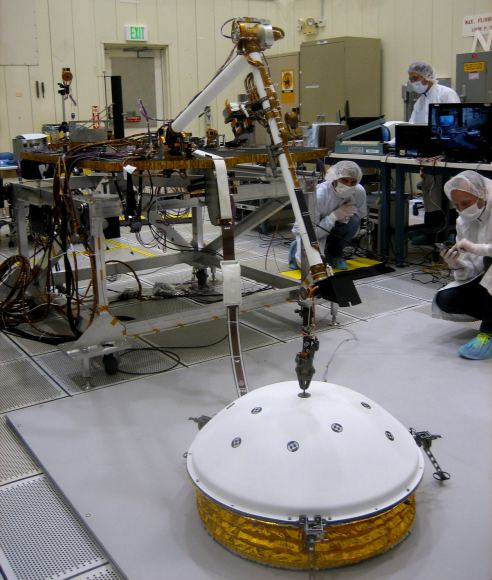 In this image, InSight's Instrument Deployment Arm is practicing placing SEIS on the surface. 
Image: NASA/Lockheed Martin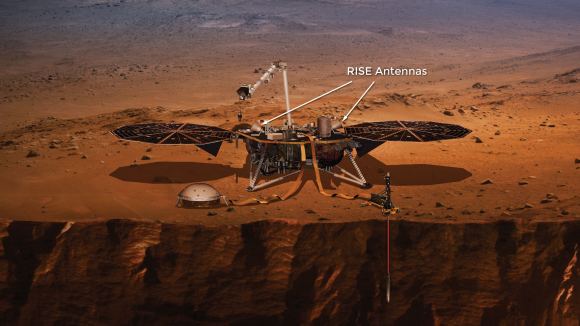 The two RISE antennae are shown in this image. RISE will reveal information about the Martian core
 by tracking InSight's position while Mars orbits the Sun.
 Image: NASA/Lockheed Martin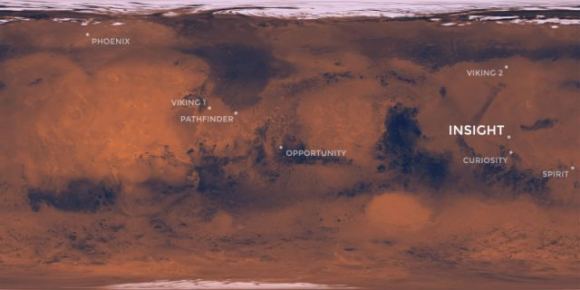 nSight will land at Elysium Planitia, just north of the Martian equator. Image: NASA/JPL-CalTech

InSight: Digging Deep with NASA's Next Mars Lander

Mission team members for InSight, the new Mars lander mission selected by NASA to launch in 2016,
 explain how the spacecraft will advance our knowledge of Mars' evolution.

Nasa's Insight Mission page
---
---
Boeing Eyes Moon-Orbiting Space Station as Waypoint to Mars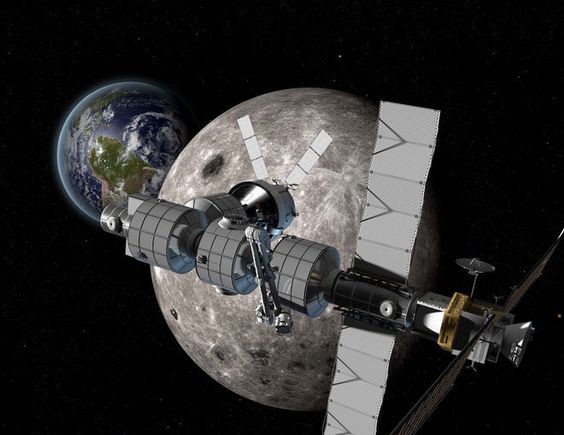 NASA MIGHT BUILD AN ICE HOUSE ON MARS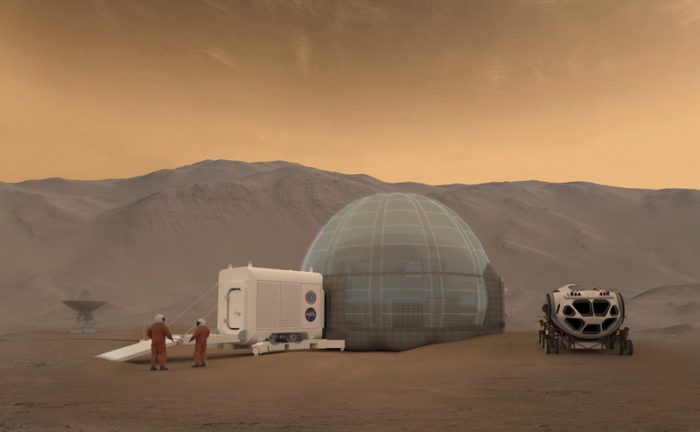 Artist concept of the Mars Ice Home. Credit: NASA.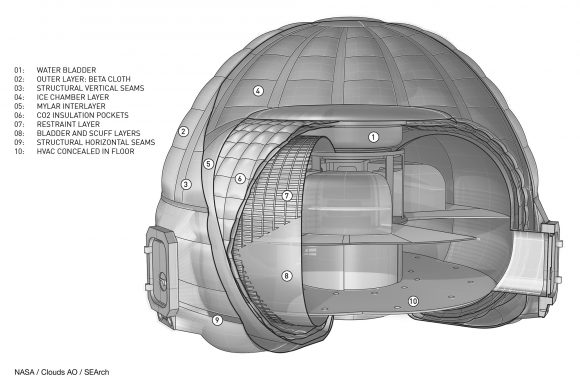 A cutaway of the interior of the Mars Ice Home concept. Credit: NASA Langley/Clouds AO/SEArch.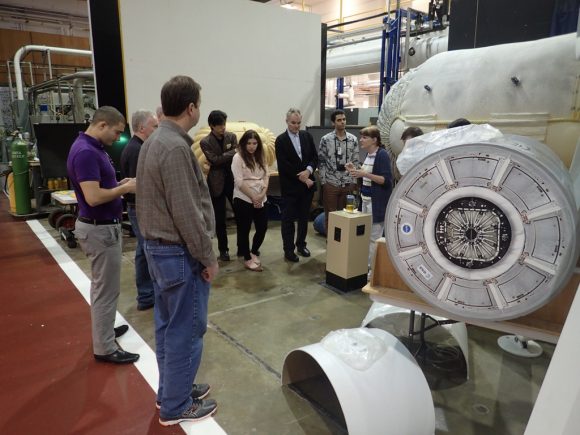 Team members of the Ice Home Feasibility Study discuss past and present technology development efforts in inflatable structures at NASA's Langley Research Center. Credits: Courtesy of Kevin Kempton/NASA.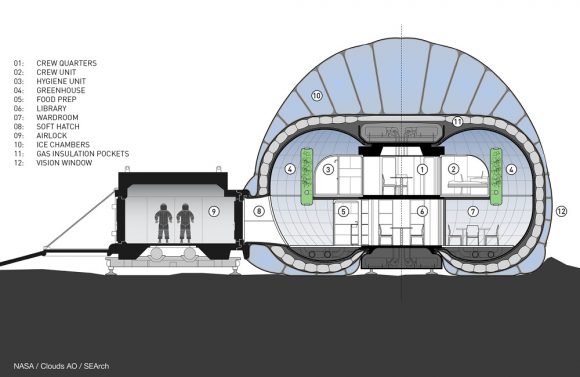 Another cutaway of the interior design of the Mars Ice Home concept. Credit: NASA Langley/ Clouds AO/SEArch.
Imagining Life on Mars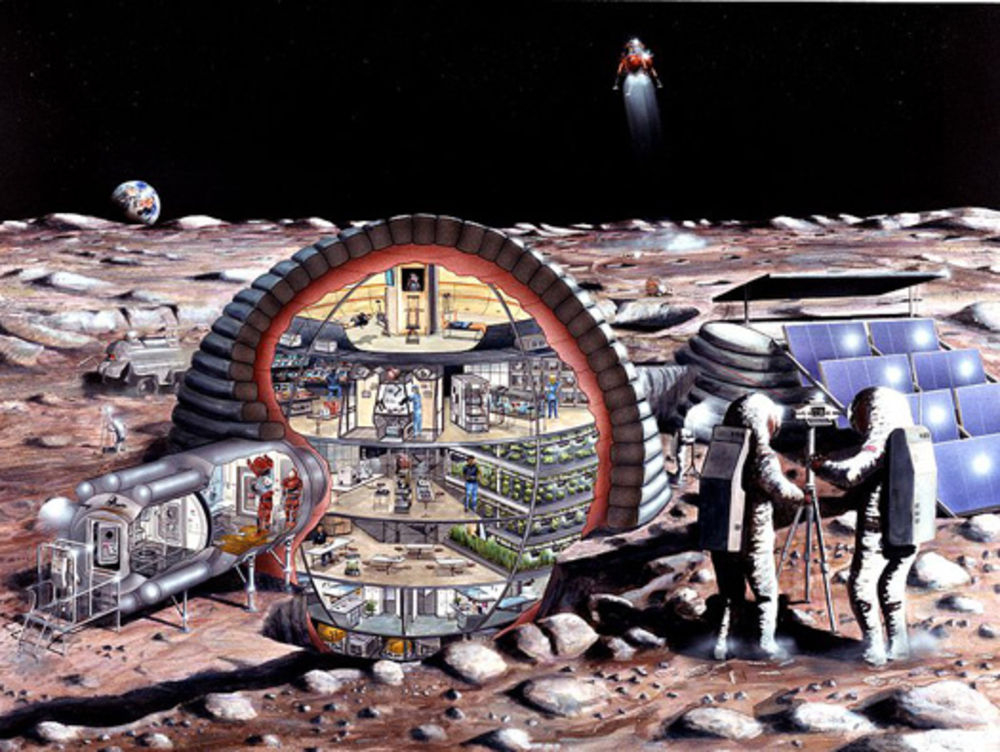 Credit:NASA In a roundabout way, yes. But first we must heat that atmosphere, since the surface of Mars is about –58°F. "We know how to warm planets; we're doing it right now," says Robert Zubrin, the president of the nonprofit Mars Society, a group devoted to Martian exploration. To make Mars more Earthlike, or "terraform" it, we just need to increase the greenhouse effect by adding fluorocarbons to the atmosphere, absorbing and trapping the sun's rays. Tetrafluoromethane, or CF4, is a simple refrigerant that could work without destroying the ozone, as other fluorocarbons do.
Next Mars Rover Will Have 23 'Eyes'