Earth has a Water Cycle. Mars has a Dust Cycle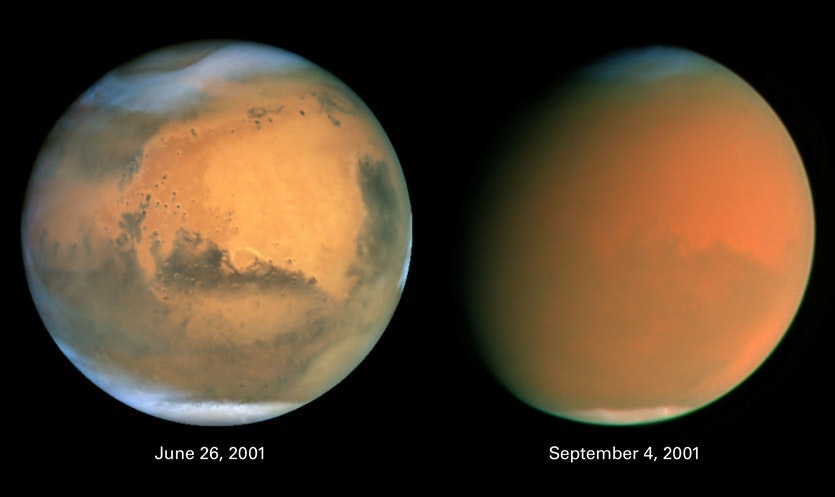 o say there are some myths circulating about Martian dust storms would be an understatement.
 Mars is known for its globe-encircling dust storms, the likes of which are seen nowhere else.
 Science fiction writers and Hollywood movies often make the dust storms out to be more dangerous
 than they really are. In "The Martian," a powerful dust storm destroys equipment, 
 strands Matt Damon on Mars, and forces him into a brutal struggle for survival.



A panorama image of the Opportunity rover, showing the solar panels. The rover's science operations
 were shut down because of the growing global dust storm. Eventually, Opportunity ceased functioning.
Credit: By NASA/JPL-Caltech/Cornell –  
 Public Domain (NASA),
Public Domain (Wikipedia)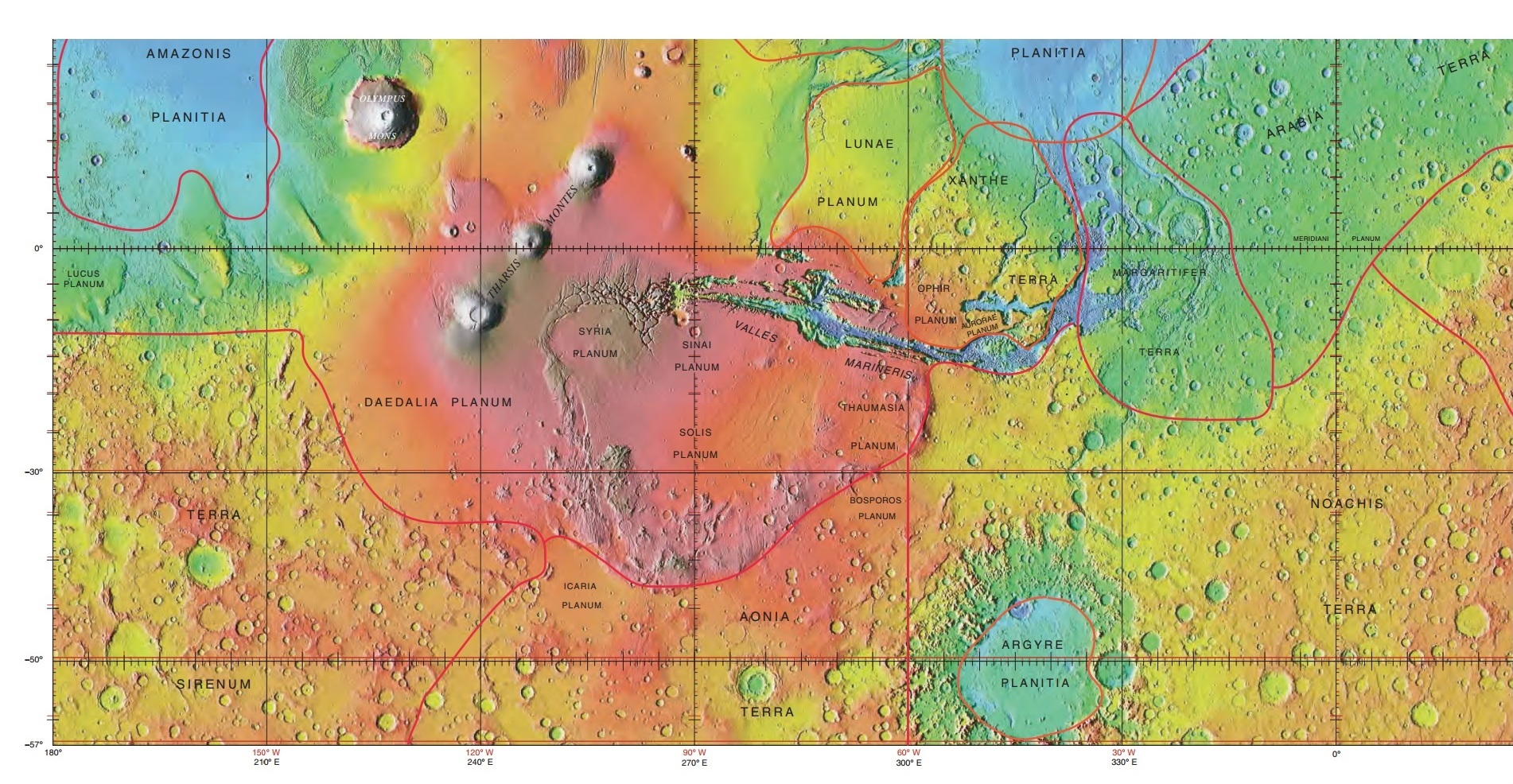 The Aonia-Solis-Valles Marineris is a region on Mars spanning from Aonia Terr through
 Solis Planum to Valles Marineris.
 Image Credit: By Jim Secosky modified NASA image.
  Public Domain (WIKIPEDIA)

ARTICLE
Rossby Waves (planetary waves)

Rossby waves naturally occur in rotating fluids. Within the Earth's ocean and atmosphere, these planetary waves
 play a significant role in shaping weather. This animation from NASA's Goddard Space Flight Center shows 
 both long and short atmospheric waves as indicated by the jet stream. The colors represent the speed of the wind
 ranging from slowest (light blue colors) to fastest (dark red). 
Oceanic and atmospheric Rossby waves — also known as planetary waves — naturally occur largely due to the Earth's rotation.
 These waves affect the planet's weather and climate.
Oceanic Rossby Waves
Waves in the ocean come in many different shapes and sizes. Slow-moving oceanic Rossby waves are are fundamentally 
different from ocean surface waves. Unlike waves that break along the shore, Rossby waves are huge, undulating movements
 of the ocean that stretch horizontally across the planet for hundreds of kilometers in a westward direction.
 They are so large and massive that they can change Earth's climate conditions. Along with rising sea levels, 
 King Tides, and the effects of El Niño, oceanic Rossby waves contribute to high tides and coastal flooding
 in some regions of the world. 
Rossby wave movement is complex. The horizontal wave speed of a Rossby (the amount of time it takes the wave
 to travel across an ocean basin) is dependent upon the latitude of the wave. In the Pacific, for instance,
 waves at lower latitudes (closer to the equator) may take months to a year to cross the ocean.
 Waves that form farther away from the equator (at mid-latitudes) of the Pacific may take closer to 10 to 20 years 
 to make the journey. The vertical motion of Rossby waves is small along the ocean's surface and large along the
 deeper thermocline — the transition area between the ocean's warm upper layer and colder depths.
 This variation in vertical motion of the water's surface can be quite dramatic: the typical vertical movement 
 of the water's surface is generally four inches or less, while the vertical movement of the thermocline
 for the same wave is approximately 1,000 times greater. In other words, for a four inch or less surface
 displacement along the ocean surface, there may be more than 300 feet of corresponding vertical movement
 in the thermocline far below the surface! Due to the small vertical movement along the ocean surface,
 oceanic Rossby waves are undetectable by the human eye. Scientists typically rely on satellite radar altimetry 
 to detect the massive waves.
Atmospheric Rossby Waves
According to the National Weather Service, atmospheric Rossby waves form primarily as a result of the Earth's geography. Rossby waves help transfer heat from the tropics toward the poles and cold air toward the tropics in an attempt to return atmosphere to balance. They also help locate the jet stream and mark out the track of surface low pressure systems. The slow motion of these waves often results in fairly long, persistent weather patterns


Source NOAA


Edit: planetary waves on the sun. 
Letter details 
The detection of Rossby-like waves on the Sun

Scott W. McIntosh, William J. Cramer
Robert J. Leamon


Nature Astronomy volume 1, Article number: 0086 (2017)
doi:10.1038/s41550-017-0086

Back-to-Back Martian Dust Storms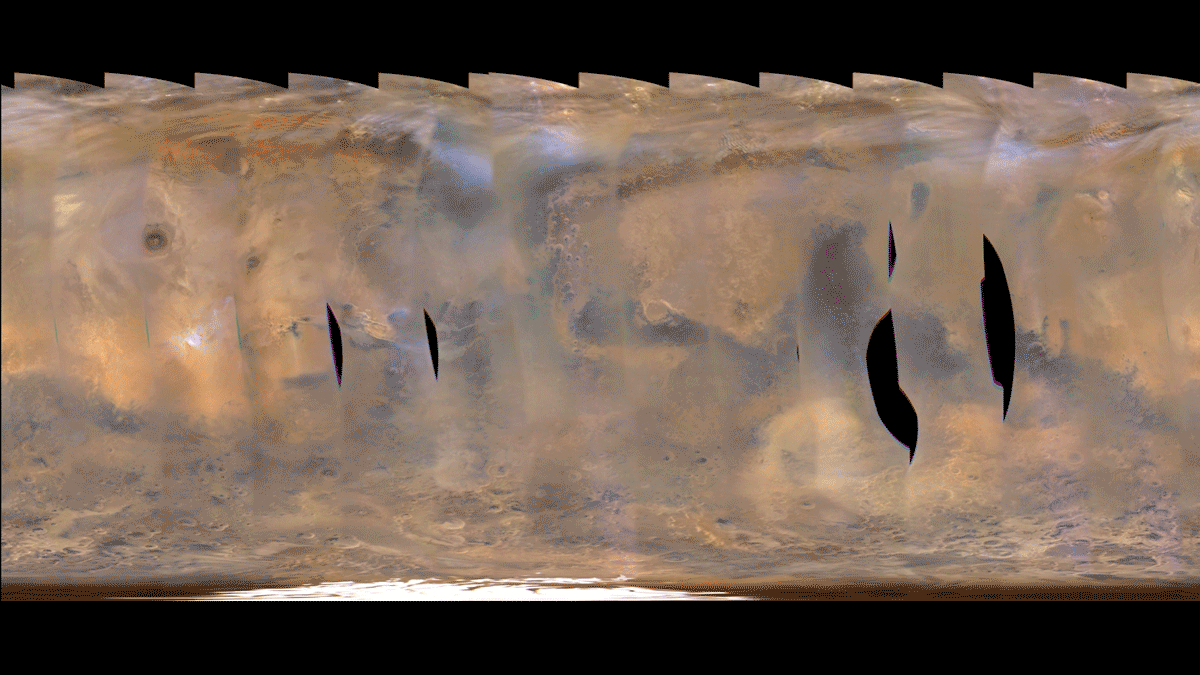 March 9, 2017
This movie clip shows a global map of Mars with atmospheric changes from Feb. 18, 2017, through March 6, 2017, 
a period when two regional-scale dust storms appeared. It combines hundreds of images from the Mars Color Imager (MARCI)
 camera on NASA's Mars Reconnaissance Orbiter.
The date for each map in the series is given at upper left. Dust storms appear as pale tan. In the opening frames, 
one appears left of center, near the top (north) of the map, then grows in size as it moves south, 
eventually spreading to about half the width of the map after reaching the southern hemisphere.
 As the dust from that first storm becomes more diffuse in the south, another storm appears near the center of the map 
 in the final frames.
In viewing the movie, it helps to understand some of the artifacts produced by the nature of MARCI images
 when seen in animation. MARCI acquires images in swaths from pole-to-pole during the dayside portion of 
 each orbit. The camera can cover the entire planet in just over 12 orbits, and takes about one day to 
 accumulate this coverage. The individual swaths for each day are assembled into a false-color, map-projected mosaic
 for the day. Equally spaced blurry areas that run from south-to-north result from the high off-nadir viewing geometry
 in those parts of each swath, a product of the spacecraft's low orbit. Portions with sharper-looking details are the
 central part of an image, viewing more directly downward through less atmosphere than the obliquely viewed portions
 . MARCI has a 180-degree field of view, and Mars fills about 78 percent of that field of view when the camera is pointed down 
 at the planet. However, the Mars Reconnaissance Orbiter often is pointed to one side or the other off its orbital track 
 in order to acquire targeted observations by other imaging systems on the spacecraft. When such rolls exceed 
 about 20 degrees, gaps occur in the mosaic of MARCI swaths. Other dark gaps appear where data are missing.
It isn't easy to see the actual dust motion in the atmosphere in these images, owing to the apparent motion of these 
artifacts. However, by concentrating on specific surface features (craters, prominent ice deposits, etc.) 
and looking for the tan clouds of dust, it is possible to see where the storms start and how they grow,
 move and eventually dissipate.
Malin Space Science Systems, San Diego, provided and operates MARCI. NASA's Jet Propulsion Laboratory, a division 
of Caltech in Pasadena, California, manages the Mars Reconnaissance Orbiter for NASA's Science Mission Directorate,
 Washington. Lockheed Martin Space Systems, Denver, built the spacecraft.

Credit
NASA/JPL-Caltech/MSSS
ENLARGE

Downloads
Original (1200x675)
5.21 MB
image/gif
DOWNLOAD
Embed
Embed this resource by pasting the following code into your website:



More Like This


Mars' North Pole is Doing the Dust Storms Thing Again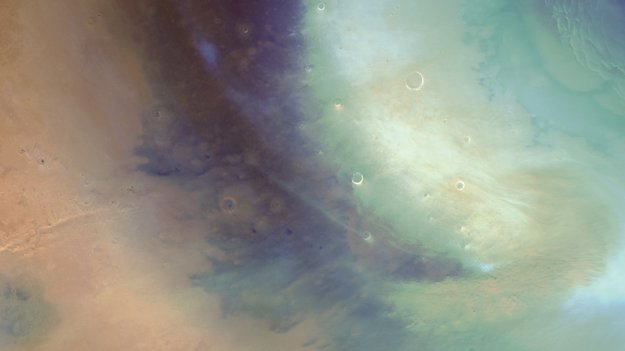 This image of a spiral-shaped dust storm was captured by the High Resolution Stereo Camera (HRSC.) 
The brown color of the storm contrasts well against the white of the polar ice cap.
 Image Credit: ESA/Mars Express/HRSC

---

This series of images captured by the Visual Monitoring Camera onboard ESA's Mars Express covers about 70 minutes 
of motion as a dust storm moves along the north polar ice cap of Mars on 29 May 2019. The storm moved with 
an approximate speed of 20 m/s. The polar ice cap covers much of the left of the image while the storm is seen on the right.
Mars Express was moving along its orbit but the images have been re-projected as if the observer was stationary,
 to make the motion of the storm clearer. The illumination angle of the Sun changes between image frames, 
 highlighting the structures in the dust clouds.
The black margins arise from the variable distance of Mars Express to the planet along its orbit: 
closer to the planet it cannot always image the same parts of the surface in consecutive images.
 Image Credit: ESA/GCP/UPV/EHU Bilbao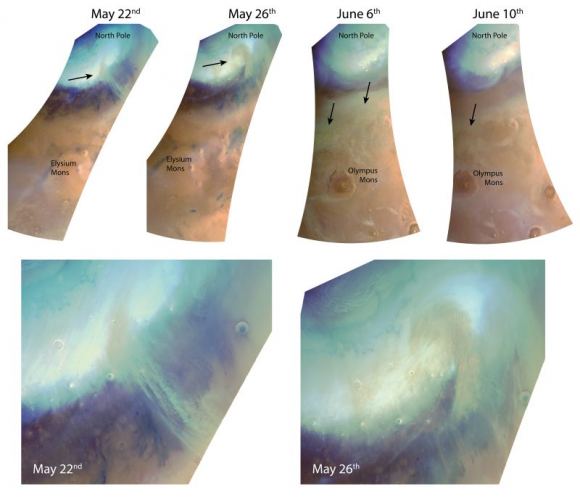 A montage of images showing both dust storms and clouds of water ice.
 Image Credit: ESA/DLR/FU Berlin, CC BY-SA 3.0 IGO

Thank You Mars express
When Martian Storms Really Get Going, they Create Towers of Dust 80 Kilometers High
Thank you NASA's Mars Reconnaissance Orbiter (MRO)
---
---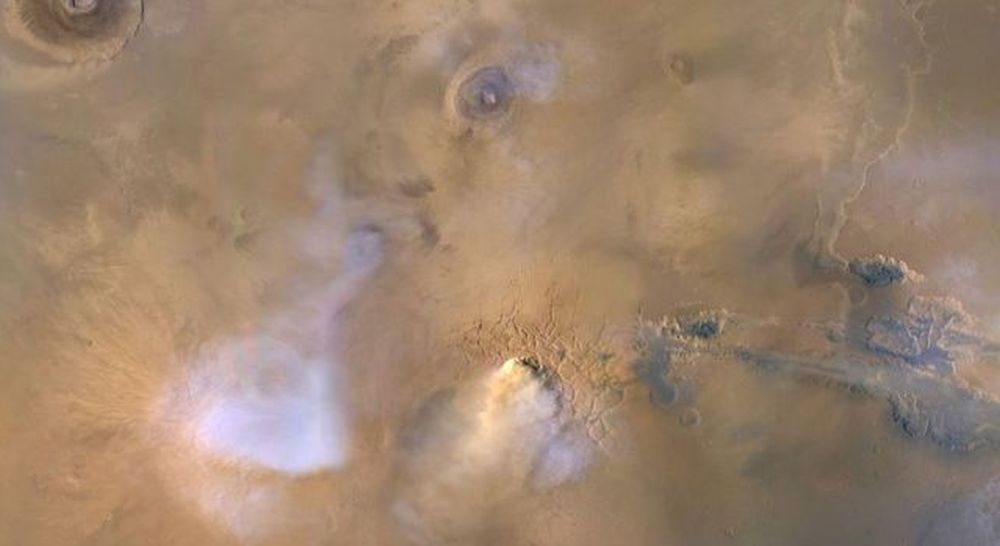 The yellow-white cloud in the bottom-center of this image is a Mars "dust tower" – 
a concentrated cloud of dust that can be lofted dozens of miles above the surface.
 The blue-white plumes are water vapor clouds.
 This image was taken on Nov. 30, 2010, by NASA's Mars Reconnaissance Orbiter. 
 Credit: NASA/JPL-Caltech/MSSS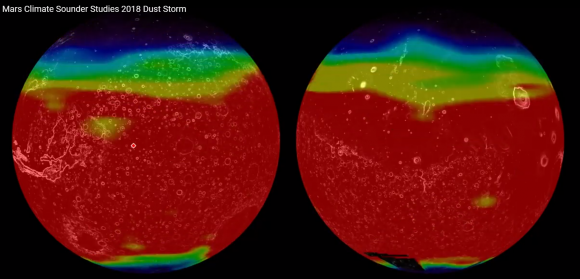 NASA's Mars Climate Sounder instrument mapped both hemispheres of Mars during the
 2018 global dust storm. On the left, the tiny circle near the center marks
 the location of Curiosity. On the right, the three Tharsus Montes volcanoes
 are visible, as well as Olympus Mons. The colors show how much light is being
 blocked by the dust. Red is the most extreme, with only about 5% of the Sun's energy
 reaching the surface.
 Image Credit: NASA/JPL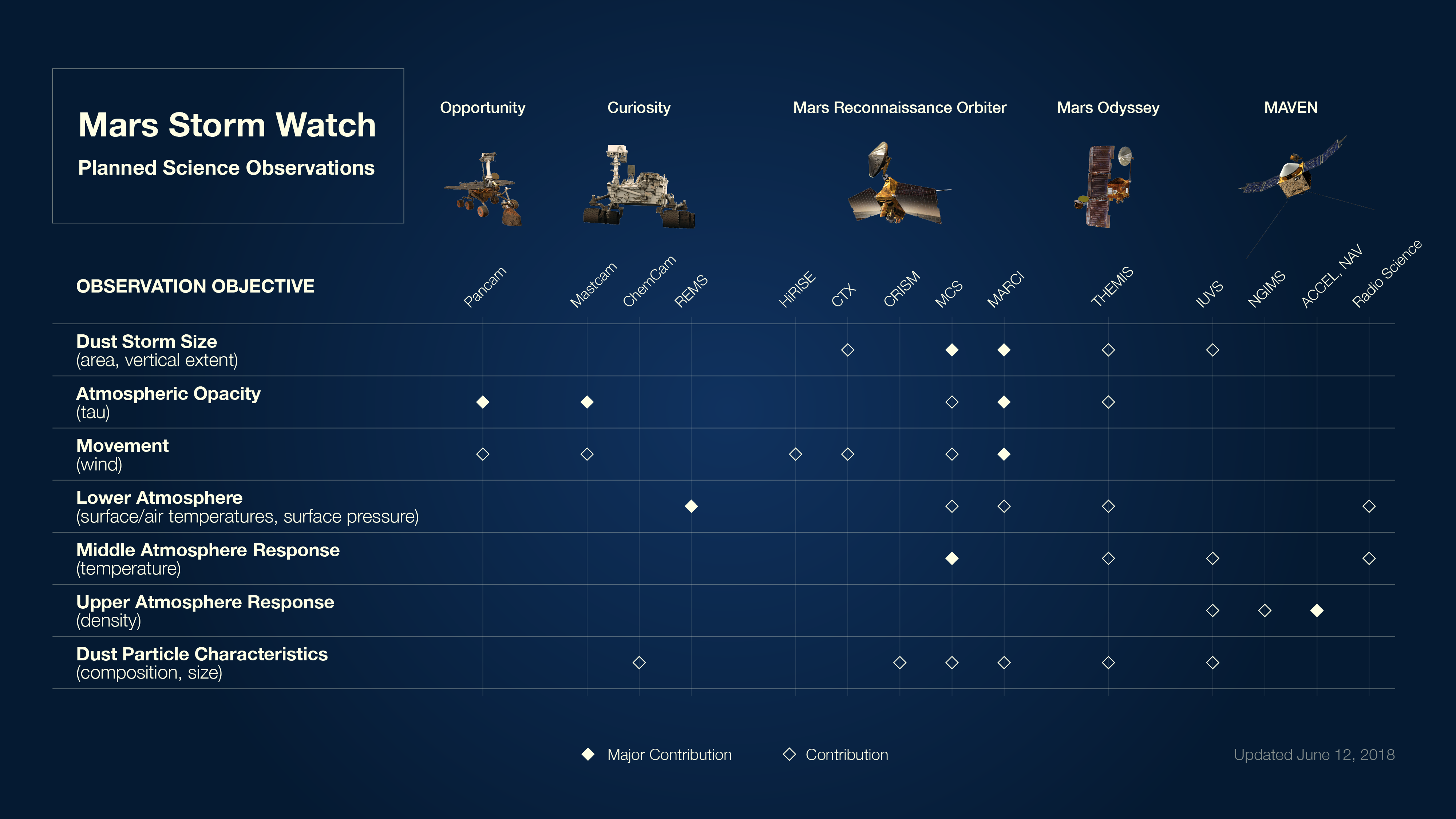 This graphic shows the ongoing contributions of NASA's rovers
 and orbiters during 2018 Martian dust storm.
 Image Credit: NASA/JPL-Caltech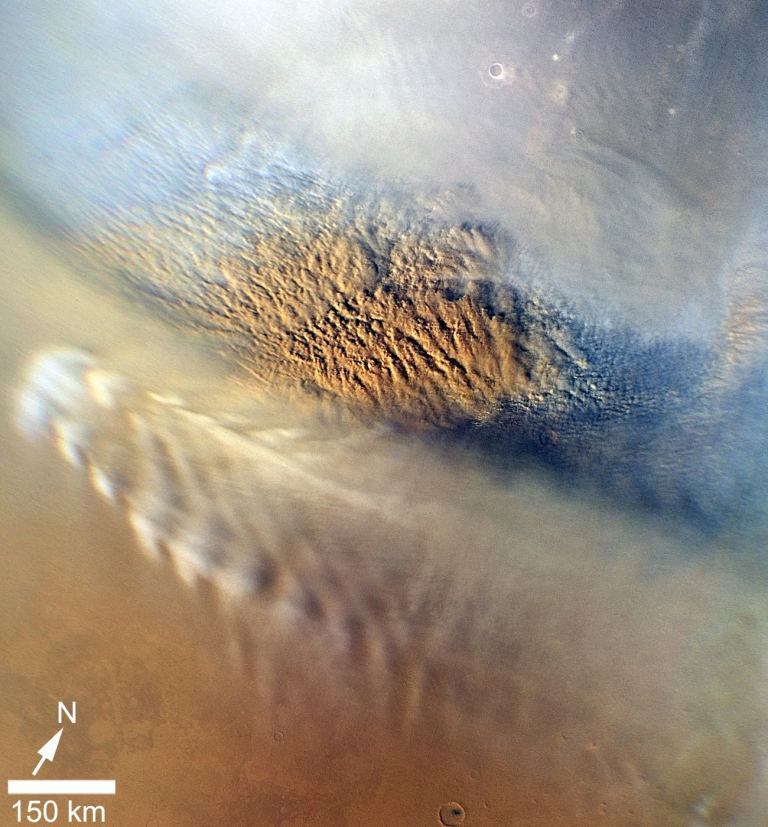 NASA's Mars Reconnaissance Orbiter is always watching storms.
 This one is Utopia Planitia, on November 7th, 2007.
 Image Credit: NASA/JPL-Caltech/MSSS

---