William Bacon's Homepages/Mission to Jupiter's Trojan Asteroids
---
---
---
This page was last updated on August 9,2023
---
Current status of the deep space network
NASA's Digital Orrery
MAST: Barbara A. Mikulski Archive for Space Telescopes
Everything We Know About Jupiter's Red Trojan Asteroids | Lucy
Map of the Universe from Johns Hopkins University and others.....

Johns Hopkins University (JHU) continues to pad its space community résumé with their interactive map, "The map of the observable Universe",
 that takes viewers on a 13.7-billion-year-old tour of the cosmos from the present to the moments after the Big Bang.
 While JHU is responsible for creating the site, additional contributions were made by NASA, the European Space Agency,
 the National Science Foundation, and the Sloan Foundation.

JWST's weekly observing schedule:

How NASA's Lucy probe will investigate the red Trojan asteroids near Jupiter. 
 Click on the link and take
 Geologie's free skincare quiz to save up to 50% off on your first purchase.
SUBSCRIBE for more videos about our other planets.
 Subscribe!
 Facebook!
 Twitter!

Donate! 
 Patreon:
Ethereum Wallet: 0x5F8cf793962ae8Df4Cba017E7A6159a104744038

Become a Patron today and support Astrum! Donate link above. I can't do it without you.
 Patreons can help pick the next Astrum Answers in a fortnightly poll.
 Thanks to those who have supported so far!

 Astrum Hindi:
 Astrum Spanish:

Image Credits: NASA/ESA/ESO/Hubble
Music Credit: Andrew Odd - Equation
Water Drips - Auroras

---
Click here to return to top of page
---
NASA's Mission to Visit 8 Asteroids, Lucy, Launches on October 16th, 2021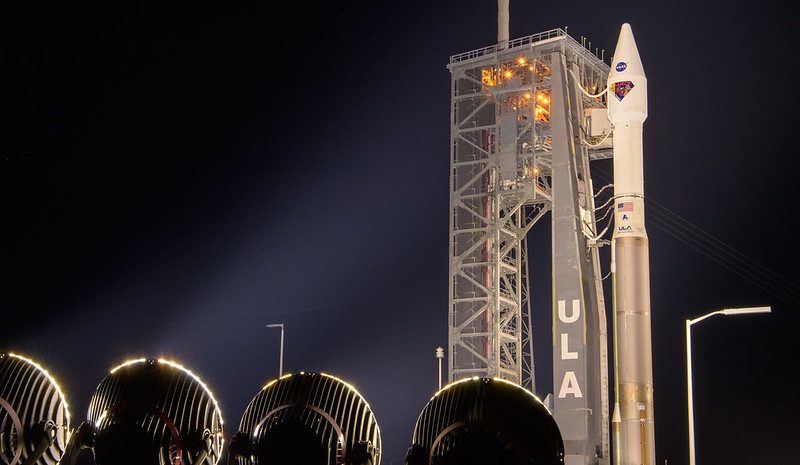 An early morning launch is planned for the Lucy spacecraft, the first space mission 
to study Jupiter's Trojan asteroids. Tomorrow, October 16, 2021 at 5:34 a.m. EDT
 is the first day and time in Lucy's 21-day launch window, and current weather
 conditions show a 90% chance of favorable conditions for liftoff from Cape Canaveral
 Space Force Station in Florida. The launch window remains open for 75 minutes.

Atlas V Lucy Mission Profile

A United Launch Alliance (ULA) Atlas V 401 rocket will deliver NASA's Lucy 
spacecraft to a hyperbolic orbit (or interplanetary trajectory). 
Lift off will occur from Space Launch Complex-41 at
 Cape Canaveral Space Force Station, Florida.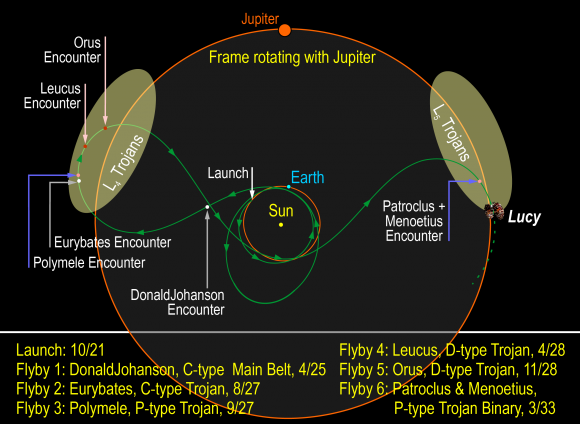 Illustration of the Lucy spacecraft's orbit around Jupiter, which will allow it to study its Trojan population.
 Credit: South west Research Institute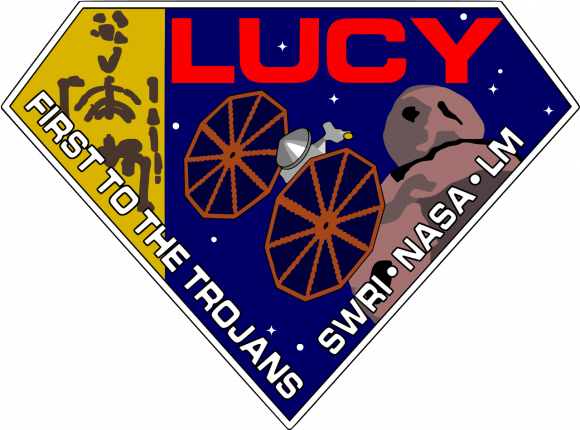 Launching Lucy, NASA's First Mission to the Trojan Asteroids

Lead image caption: A United Launch Alliance Atlas V rocket with the Lucy spacecraft aboard is seen at Space Launch Complex 41, Thursday, Oct. 14, 2021,
 at Cape Canaveral Space Force Station in Florida. Credit: NASA/Bill Ingalls.
On Oct. 16, 2021, our Lucy spacecraft will begin its journey to visit a record-breaking number of asteroids.
 The 12-year mission starts from NASA's Kennedy Space Center where it'll launch aboard
 a United Launch Alliance Atlas V 401 rocket. From there, Lucy will be the first spacecraft to visit a
 record number of destinations in independent orbits around the sun – one main belt asteroid and seven 
 of Jupiter's Trojan Asteroids. Like the mission's namesake – the fossilized human ancestor, "Lucy," 
 whose skeleton provided unique insight into humanity's evolution – Lucy will revolutionize 
 our knowledge of planetary origins and the formation of the solar system.

Lucy's first launch attempt in its 21-day launch window is scheduled for 5:34 a.m. EDT on Oct. 16 2021
 Launch coverage starts at 5 a.m. EDT on NASA TV, the NASA app, and @NASA social media.
 Be a part of Lucy's historic launch day by using the hashtag #LucyMission!

Producer/Editor: Lacey Young
Music: Universal Production Music


---
Click here to Jump to Universe Today's associated pages
---
---
Click here to return to top of page
---
Lucy is off to Visit Jupiter's Trojan Asteroids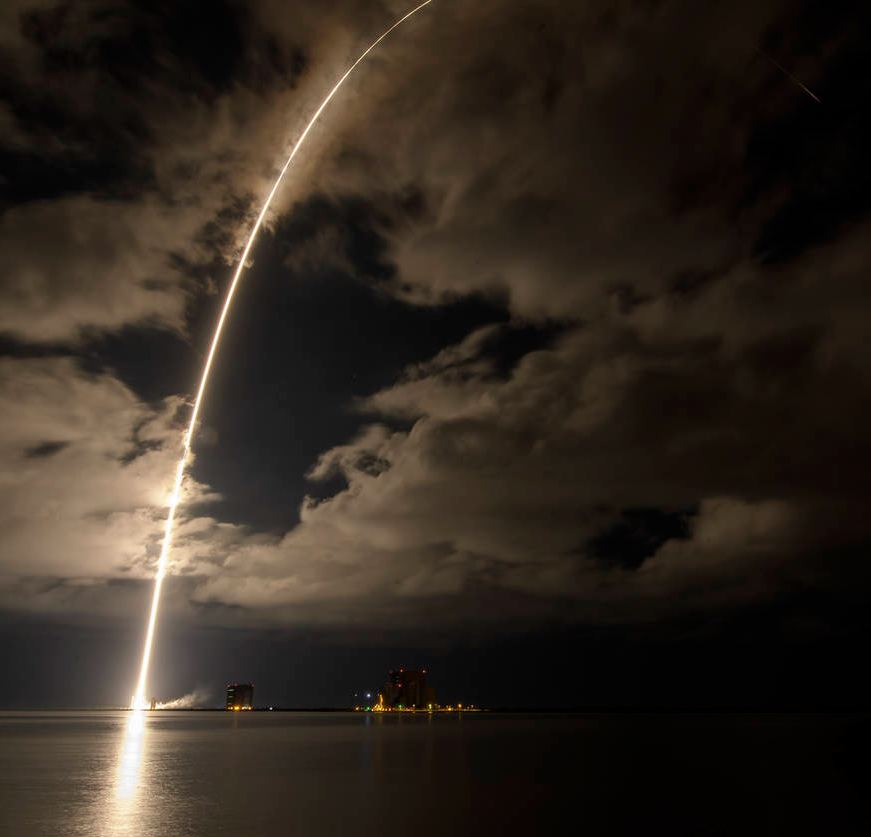 NASA's Lucy spacecraft is on its way. The spacecraft was launched into space on Saturday, October 16th 2021
 on an Atlas 5 rocket. Its primary target is Jupiter's Trojan asteroids.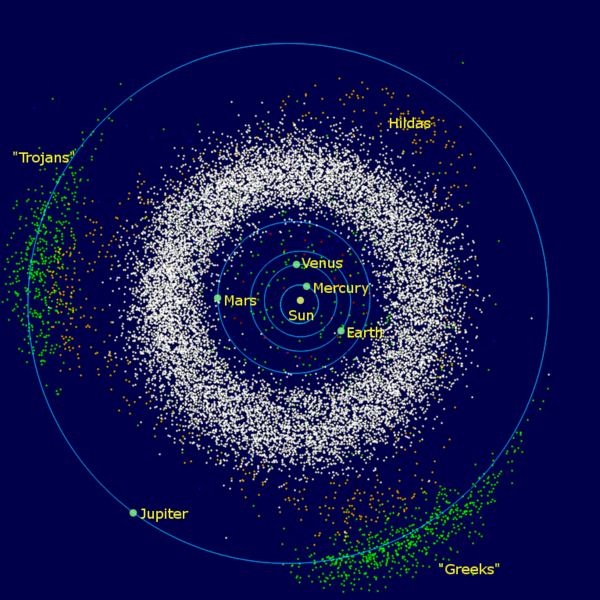 The two groups of Trojans are named the "Trojan camp" and the "Greek camp."
 The white ring is the main asteroid belt.
 Image Credit: By Mdf at English Wikipedia –
  Transferred from en.wikipedia to Commons., Public Domain,

A Single Spacecraft Will Visit Seven Asteroids. NASA's Lucy Mission Passes Its Design Review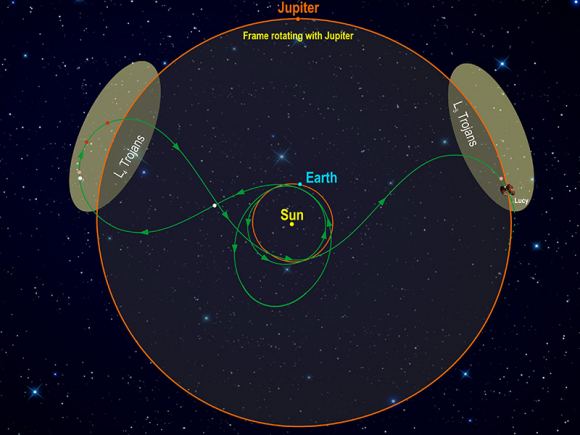 This diagram illustrates Lucy's orbital path. The spacecraft's path (green)
 is shown in a frame of reference where Jupiter remains stationary, 
 giving the trajectory its pretzel-like shape.
 Credit: Southwest Research Institute

---
Click here to Jump to Universetoday's associated pages
---
---
Click here to Return to the top of this page
---
---
Click here to Jump to associated pages from universetoday
---
---
Click here to return to top of page
---
---
Click here to Click here to Jump to Associated pages from universetoday
---
---
Click here to return to top of page
---
BR>
---
Click here to Click here to Jump to Associated pages from universetoday
---
---
Click here to return to top of page
---
---
Click here to return to NASA's Mission to Visit 8 Asteroids, Lucy, Launches on October 16th, 2021 subsection
---
---
Click here to Return to top of Articles subsection
---
---
---
Click here to return to top of page
---
---
Lucy is off to Visit Jupiter's Trojan Asteroids
Universe today's CATEGORY: ASTEROIDS
Universe today's CATEGORY: ASTRONOMY
Universe today's CATEGORY: MISSIONS
Universe today's TAG: ASTEROIDS
Universe today's TAG: LAUNCH
Universe today's TAG: LUCY
Universe today's TAG: MAIN BELT ASTEROIDS
Universe today's TAG: MISSIONS
Universe today's TAG: TROJAN ASTEROIDS
---
Click here to Return to Lucy is off to Visit Jupiter's Trojan Asteroids Subsection
---
---
Click here to Return to top of Articles subsection
---
---
Click here to Return to the top of this page
---
---
---
Lucy's Solar Array is Fixed! (Mostly)
---
---
Uh oh, one of Lucy's Solar Arrays Hasn't Latched Properly
---
---
NASA is Ready to try and fix Lucy's Unlatched Solar Panel
---
---
Lucy is off to Visit Jupiter's Trojan Asteroids
---
---
Universe Today's CATEGORY: ASTEROIDS
Universe Today's CATEGORY: ASTRONOMY
---
---
Click here to Return to top of this articles subsection
---
---
---
---
Click here to Jump to Top of this page
---
---
---
---
Click here to Jump to Return to Lucy's Solar Array is Fixed! (Mostly) subsection
---
---
---
NASA is Ready to try and fix Lucy's Unlatched Solar Panel
Lucy is off to Visit Jupiter's Trojan Asteroids
Universe Today's CATEGORY: ASTRONOMY
Universe Today's TAG: LUCY
Universe Today's TAG: NASA
Universe Today's TAG: SOLAR PANELS
Universe Today's TAG: TROJAN ASTEROIDS
---
Click here to NASA is Ready to try and fix Lucy's Unlatched Solar Panel subsection
---
---
Click here to Return to top of Articles subsection
---
---
Click here to Return to top of page
---
---
Lucy Adds Another Asteroid to its Flyby List
---
---
Want a Sneak Peek From NASA's Lucy Mission? Here are Some Photos it Took of the Moon During its Flyby
---
---
Universe Today's CATEGORY: ASTEROIDS
Universe Today's CATEGORY: MISSIONS
Universe Today's CATEGORY: SOLAR SYSTEM
Universe Today's TAG: ASTEROIDS
Universe Today's TAG: JUPITER TROJANS
Universe Today's TAG: LUCY
Universe Today's TAG: MAIN BELT ASTEROIDS
Universe Today's TAG: MISSIONS
Universe Today's TAG: SOLAR SYSTEM FORMATION
Universe Today's TAG: TROJAN ASTEROID
---
---
Click here to Return to top of this articles subsection
---
---
---
---
Click here to Jump to Top of this page
---
---
---
---
Click here to Return to the Lucy Adds Another Asteroid to its Flyby List subsection
---
---
---
PDFs
The Trojan Asteroids: Keys to Many Locks
Lucy Mission to the Trojan Asteroids: Science Goals
---
---
Click here to Return to top of Articles subsection
---
---
---
Click here to Return to the top of this page
---
---
---
Click here to Return to top of Articles subsection
---
---
---
Click here to return to top of page
---