William Bacon's Homepages/Mission-the Euclid Space Telescope
---
---
---
This page was last updated on August 12,2023
---
Status of the Deep Space Network
About the Deep Space Network: Space Communications and Navigation
NASA's Digital Orrery
MAST: Barbara A. Mikulski Archive for Space Telescopes
Map of the Universe from Johns Hopkins University and others.....

Johns Hopkins University (JHU) continues to pad its space community résumé with their interactive map, "The map of the observable Universe",
 that takes viewers on a 13.7-billion-year-old tour of the cosmos from the present to the moments after the Big Bang.
 While JHU is responsible for creating the site, additional contributions were made by NASA, the European Space Agency,
 the National Science Foundation, and the Sloan Foundation.

JWST's weekly observing schedule:
NASA's Unverse of Learning
An Integrated AstroPhisics STEM Learning and Literacy program
---
Click here to return to top of page
---
---
ESA's Euclid Mission is Off to Explore the Dark Universe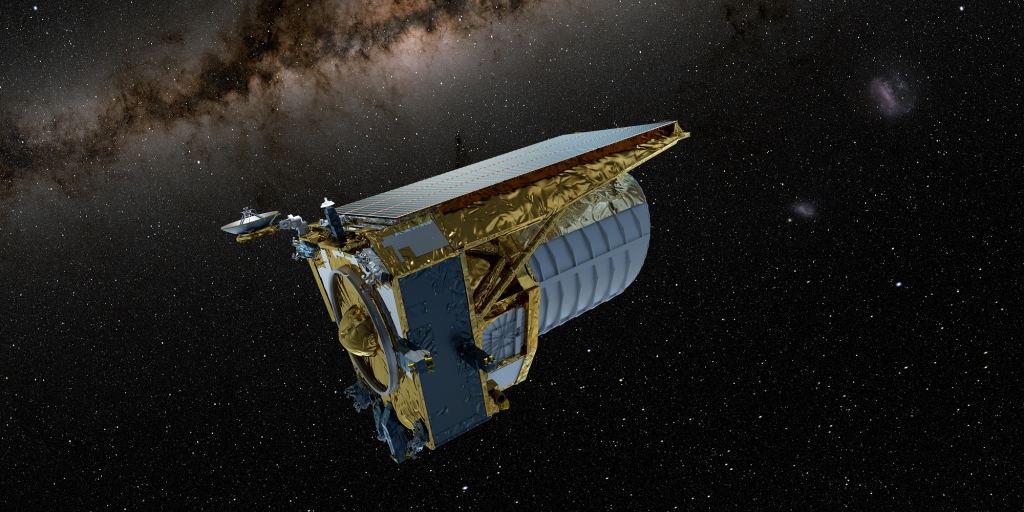 Artist impression of the Euclid mission in space.
 Credit: ESA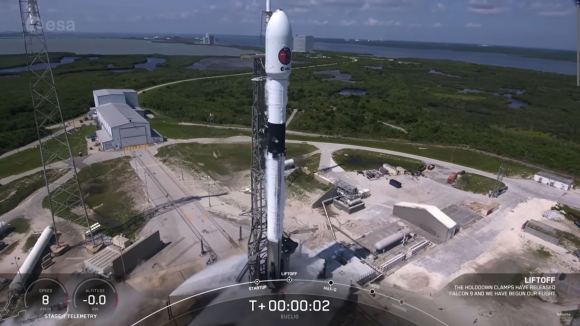 The ESA's Euclid mission lifts off from Cape Canaveral on July 1st, 2023.
 Credit: ESA

The Euclid Telescope is Launced by Spacex!!!!!!!!!!!!!!!!!!!
SpaceX, ESA launch Euclid space observatory on 6 year mission to map "dark universe"

A European space telescope blasted off Saturday on a quest to explore the mysterious and invisible 
realm known as the dark universe.

SpaceX launched the European Space Agency's Euclid observatory toward its ultimate destination 
1.5 million kilometers away, the Webb Space Telescope's neighborhood. It will take a month 
to get there and another two months before it starts its ambitious six-year survey this fall.

Named for antiquity's Greek mathematician, Euclid will scour billions of galaxies covering 
more than one-third of the sky. By pinpointing the location and shape of galaxies up to 10
 billion light-years away — almost all the way back to the cosmos-creating Big Bang — 
 scientists hope to glean insight into the dark energy and dark matter that make 
 up most of the universe and keep it expanding.

For more info, please go to 

Subscribe to Global News Channel HERE:

Like Global News on Facebook HERE:

Follow Global News on Twitter HERE

Follow Global News on Instagram HERE
#GlobalNews #spacex #esa

Launch broadcast replay

Watch a replay of the launch broadcast for ESA's Euclid.
 
ESA's Euclid mission was launched into space on a SpaceX Falcon 9 from Cape Canaveral
 in Florida, USA, on 1 July 2023. It is now on its way to Sun-Earth Lagrange point L2.
 
By observing billions of galaxies out to 10 billion light-years, the space telescope
 will create the most detailed 3D-map of the Universe, with time as the third dimension.
 
The launch broadcast programme includes live segments from the launch site and ESA's
 European Spacecraft Operations Centre (ESOC) in Darmstadt, Germany.
 
Credits: ESA/SpaceX

00:00 - 45:35 Pre-launch programmes 
45:35 - 55:00 Lift-off
55:00 - 01:27:00 Booster landing in the ocean
01:27:00 - 01:31:00 Euclid space craft separation
01:31:00 - 01:42:29 Acquisition of Signal (AOS)

★ Subscribe:and click twice on the bell button to receive our notifications. 

Check out our full video catalog:
Follow us on Twitter:
On Facebook: 
On Instagram: 
On Flickr: 

We are Europe's gateway to space. Our mission is to shape the development of Europe's space capability
 and ensure that investment in space continues to deliver benefits to the citizens of Europe and the world.
 Check out to get up to speed on everything space related. 
 Copyright information about our videos is available here:
 #ESA 
#Euclid
#DarkMatter

to Click here to Jump to Associated pages from universetoday
---
---
Click here to return to top of page
---
Euclid: First Images (August 2023)

Euclid First Light Images

Explore the first images release from the Euclid space telescope.
 Discover the full-field-of-view and zoomed-in versions of the VIS (VISible imager) 
 and NISP (Near-Infrared Spectrometer and Photometer) 
 images, along with the intriguing NISP grism image.
 Delve into the fascinating story behind capturing these visuals, 
 the meticulous procedures involved, and the team's dedication throughout this remarkable journey. 

Lear more about Euclid first light images
ESA:
 Euclid test images tease of riches to come

 Euclid Consortium:Euclid sees 'First Light' 

Copyright: Euclid Consortium
Caption: DE (Laila Linke), IT (Silvano Tosi), HUN (Andras Kovacs), FR (Audrey Le Reun),
 ES (Guadalupe Cañas Herrera), FA (Teymoor Saifollahi), NO (Jarle Brinchmann), EN/CN (Yuzheng) 

More about Euclid
Website: 

 Twitter: @EC_Euclid

 Instagram: @euclidconsortium 

 Fediverse: @astrodon.social/@ec_euclid

#EuclidMission #ESAEuclid #DarkUniverse #DarkEnergy #darkmatter

Euclid Just Opened Its Eyes, and This Is What It Saw

uclid is a new space telescope that will explore the dark universe, which is made of
 dark matter and dark energy. It has just released its first sample pictures from space,
 and they are amazing. Watch this video to see these pictures and learn 
 more about Euclid and the dark universe.

Best Telescopes for beginners:

Celestron 70mm Travel Scope


Celestron 114LCM Computerized Newtonian Telescope


Celestron – StarSense Explorer LT 80AZ


NASA SPACENEWS:Visit our website for up-to-the-minute updates:

Follow us 
Facebook:

 Twitter


Join this channel to get access to these perks:
  

 / @nasaspacenewsagency  

#NSN #euclid #space #telescope #dark #universe #matter #energy #pictures
 #images #galaxies #stars #cosmology #science #astronomy #astrophysics 
 #esa #nasa #jwst #hubble #gravitational #lensing #supernova #quasar 
 #cosmic #shear #expansion #bigbang #cosmicvision  #NASA #Astronomy

Here's What ESA's Incredible Space Telescope Euclid Is All About
---
Click here to return to top of page
---
---