William Bacon's Homepages/Mission to Alpha Centauri

---
---
---
This page was last updated on July 1, 2018
---
William Bacon' Mission to Alpha Centuari Page Index
---
Click here to return to top of page
---
Mission to Alpha Centauri
CHANDRA OBSERVATORY CHECKS TO MAKE SURE ALPHA CENTAURI IS SAFE, YOU KNOW, IN CASE WE DECIDE TO VISIT
Web page of the chandra observatory
---
Web page of the chandra observatory
---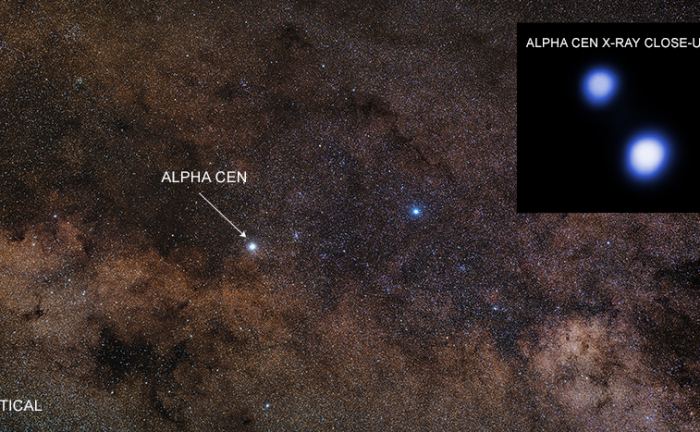 The Alpha Centauri system, shown in the optical and X-ray wavelenghts (using Chandra data).
 Credit: chandra.harvard.edu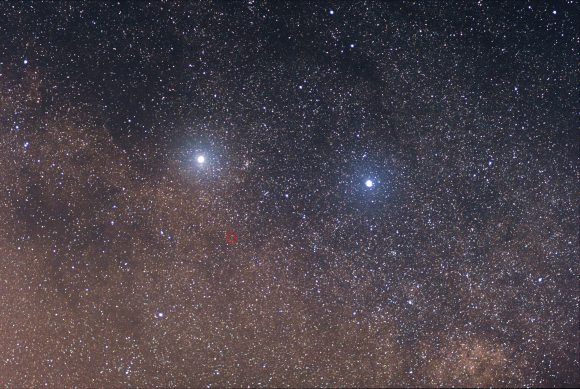 The two brightest stars of the Centaurus constellation – (left) Alpha Centauri and (right) Beta Centauri.
 The faint red star in the center of the red circle is Proxima Centauri. 
 Credit: Wikipedia Commons/Skatebiker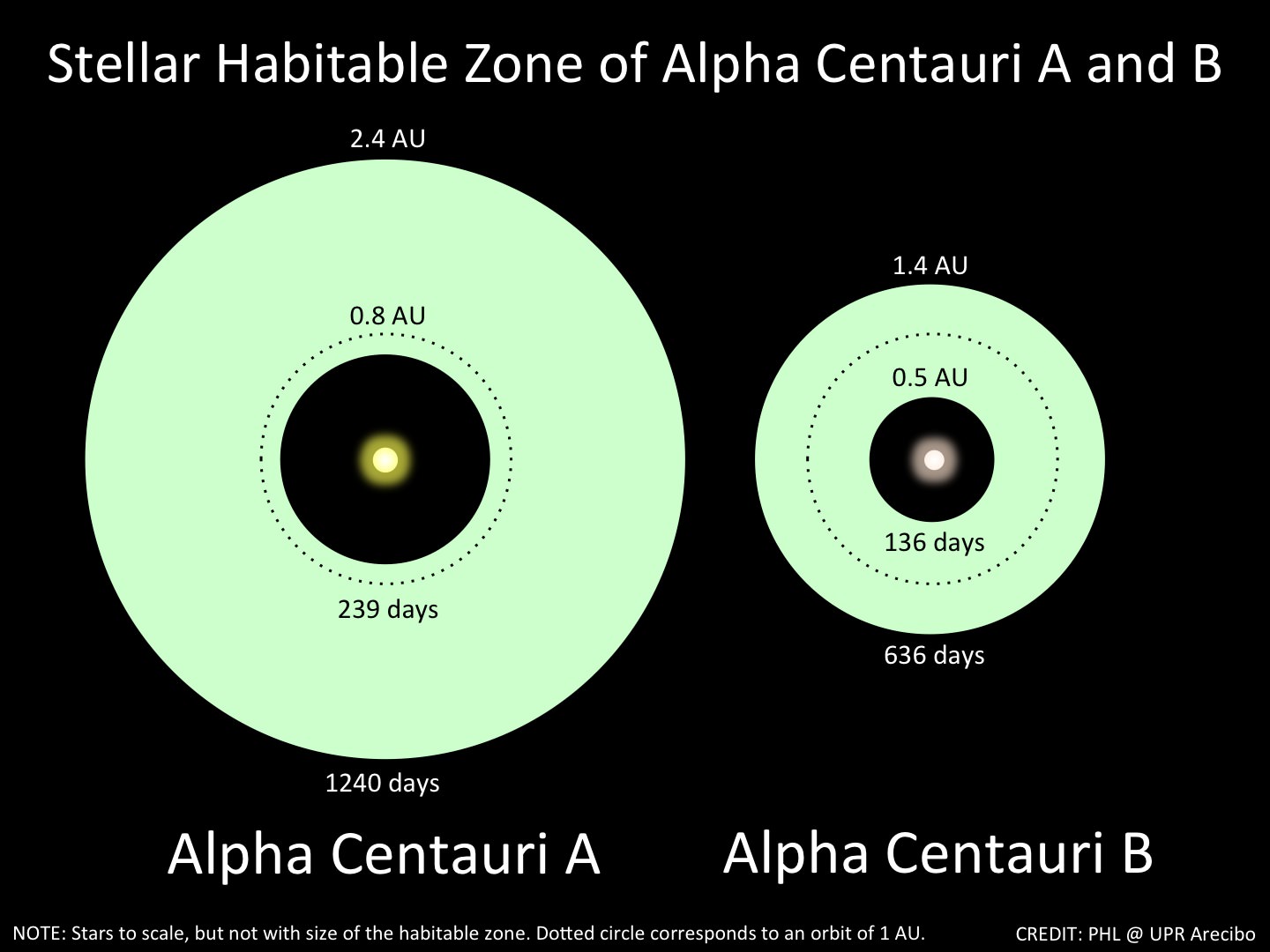 The respective habitable zones around Alpha Centauri A and B.
 Credit: Planetary Habitability Laboratory

---
---

What these observations showed was that any planet orbiting within the habitable zone 
of A would receive (on average) a lower dose of X-rays compared to similar planets around the Sun.
 For planets orbiting withing the habitable zone of B, the X-ray dose they received would be about
 five times higher. Meanwhile, planets orbiting within Proxima Centauri's habitable zone would get an 
 average of 500 times more X-rays, and 50,000 times more during a big flare


At a distance of only 25 trillion miles, the Alpha Centauri star system is a prime target in humanity's search 
for life outside our Solar System.
Astronomers would like to know what kind of environment exists around the two stars in Alpha Centauri that closely 
resemble our Sun.
To learn about this, NASA's Chandra X-ray Observatory has been monitoring the Alpha Centauri system every six months
 for over a decade.
Chandra is the only X-ray observatory capable of resolving the two Sun-like stars to determine which star
 is doing what.
A new study indicates these two stars are likely not pummeling any orbiting planets with large amounts of X-ray radiation.
This is promising news for the sustainability of life on any planets astronomers find around these two nearby
 stars in the future.

---
Click here to return to top of page
---
Can we reach Alpha Centauri by a generation ship?
WHAT'S THE MINIMUM NUMBER OF PEOPLE YOU SHOULD SEND IN A GENERATIONAL SHIP TO PROXIMA CENTAURI?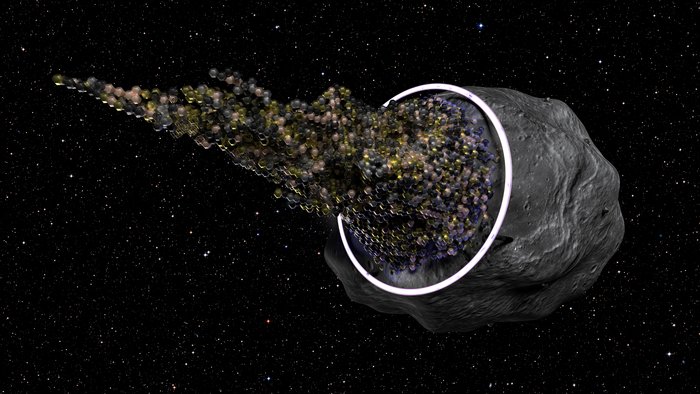 A concept for a multi-generation ship being designed by the TU Delft Starship Team (DSTART), 
with support from the ESA. 
Credit and Copyright: Nils Faber & Angelo Vermeulen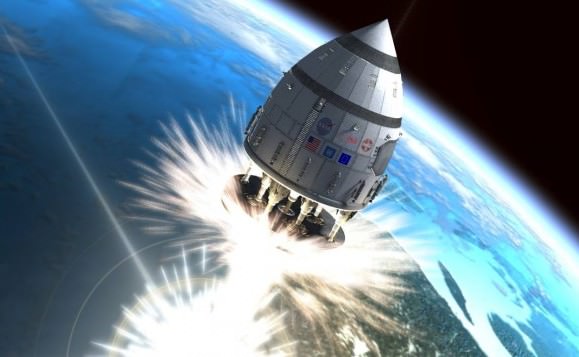 The Project Orion concept for a nuclear-powered spacecraft. 
 Credit:silodrome.co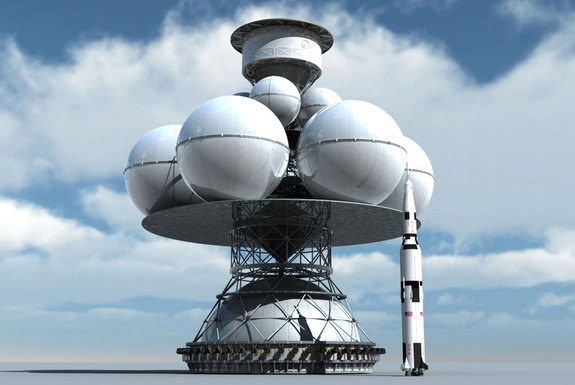 Weighing in at 60,000 tons when fully fuelled, Daedalus would dwarf even the Saturn V rocket.
 Credit: Adrian Mann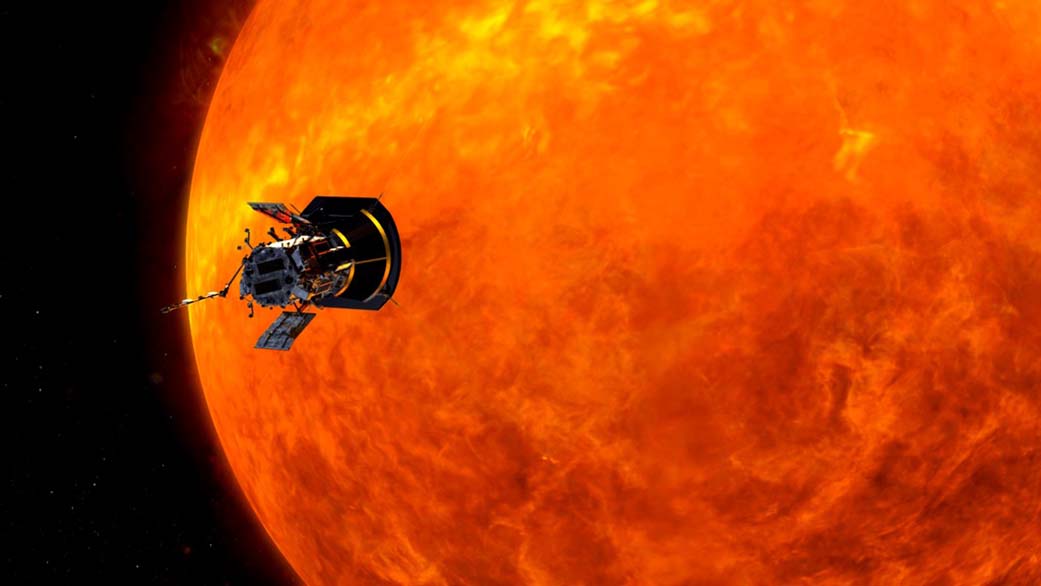 Illustration of the Parker Solar Probe spacecraft approaching the Sun.
 Credits: Johns Hopkins University Applied Physics Laboratory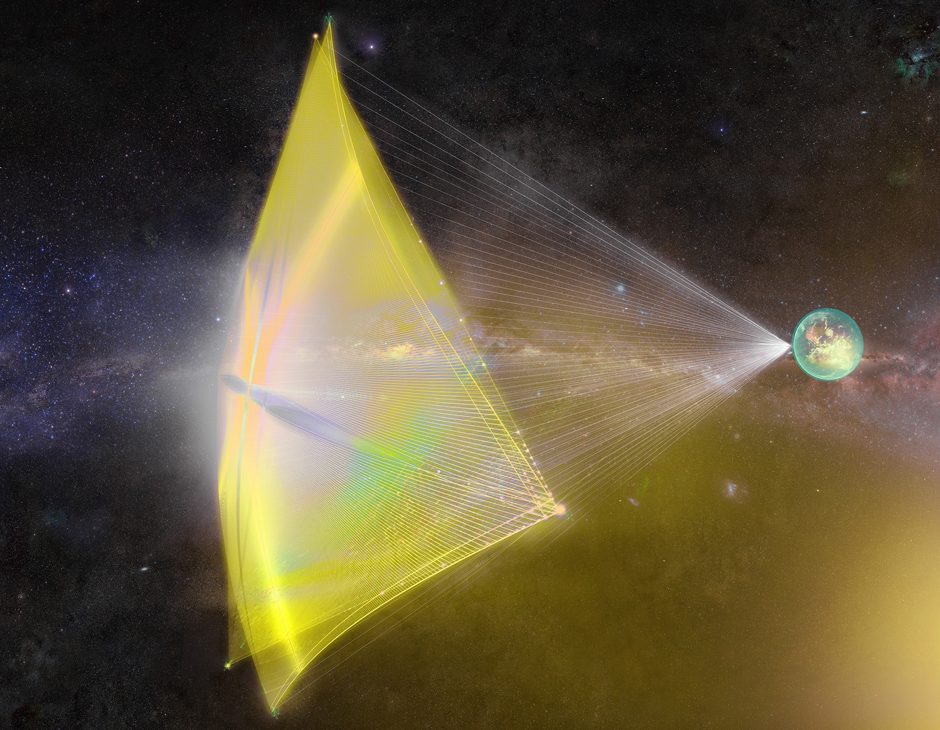 Project Starshot, an initiative sponsored by the Breakthrough Foundation,
 is intended to be humanity's first interstellar voyage.
 Credit:breakthroughinitiatives.org

Will We Ever Reach Another Star? The Challenge of Interstellar Travel


Sign up to my weekly email newsletter:

 Support us at:Support us at:
 
: More stories at

Follow us on Twitter: @universetoday

 Like us on Facebook:
 
 Google+ -
 
 Instagram -

Team: Fraser Cain - @fcain / frasercain@gmail.com
 /Karla Thompson - @karlaii
 
 Chad Weber -
 
Chloe Cain - Instagram: @chloegwen2001
The nearest star is 4 light years away. That means that light, traveling at 300,000 kilometers per second 
would still need 4 YEARS to reach the nearest star. The fastest spacecraft ever launched by humans would 
need tens of thousands of years to make that trip.
But science fiction encourages us to think it's possible. Kirk and Spock zip from world to world with a
 warp drive violating the Prime Directive right in it's smug little Roddenberrian face. 
 Han and Chewy can make the Kessel run in only 12 parsecs, which is confusing and requires fan theories 
 to resolve the cognitive space-distance dissonance, and Galactica, The SDF 3, and Guild Navigators
 all participate in the folding of space.


---
Click here to return to top of page
---